Few are old enough to remember Francis Lee, but those who do will remark how he dabbled in the art of what is now referred to as "simulation". Ie. diving.
That was the 1970s, before English football was supposedly infected with the "foreign disease" of cheating. Lee's antics, which led to a memorable, no-holds-barred, punch-up with Norman Hunter at Derby County's Baseball Ground in 1975, make a mockery of the jingoistic ignorance shown towards such deception.
Arsene Wenger said foreign players were to blame for introducing diving to the Premier League, but added English players are quickly learning to do the same. To an extent, he is right.
Gary Neville, in his Mail on Sunday column, reflected that playing with Salford lads in his youth "you would probably have had to smash a boy in half to get him to go to ground", let alone to show he was hurt. But the culture shock of playing in youth tournaments with Manchester United was an education in continental savvy.
Neville's Monday Night Football masterclass on diving:
"We were all indignant. In your frustration, you would go to pick a lad up who was on the ground and then suddenly he would make out you had hit him," he recalled.
"And instead of a yellow card it was a red one. The whole team would be outraged. Cheating, pure and simple. Or so we thought. But Eric [Harrison], Brian [Kidd] and Nobby [Stiles] would simply say to us: 'When are you going to learn?'"
Neville infamously took a dive in his career against Manchester City and appeared to have learnt from it, since when confronted by Steve McManaman, he headbutted him and was sent off. However he took an unenforced tumble against Sunderland five years later. Whereas Lee's dramatics were a rarity amidst the butchering on cabbage patch pitches, now it is commonplace as British players take advantage of refereeing kindness towards anything remotely bruising.
Neville dives against Sunderland:
Cast your mind as far back as the 1998 World Cup. Michael Owen, running at the peak of his pace at an Argentinian defence, falls under no contact and wins a penalty, showing experience beyond his 18-years-of-age. It was telling that hardly any Argentines complained, for they effectively acknowledged the cleverness of an opponent who had seemingly subscribed to their culture.
Owen dived to win two penalties in two successive World Cups against Argentina, but because it was in the name of Queen and country, he wasn't castigated.
Owen stumbles against Argentina, 1998
David Beckham's Flash Harry nature in his Brylcreem days saw him "make a meal" of little or no contact. Add to that duo Steven Gerrard, Wayne Rooney, Theo Walcott, Ashley Young, Andy Carroll and James Perch and the list stacks up of English divers. For a more united feel, Gareth Bale and Kyle Lafferty are also guilty of such shameless antics.
Steven Gerrard is one of the Premier League's serial divers:
Certain media personnel are now doing a U-turn after defending the indefensible. Young's pathetic exaggeration under minimal contact against Aston Villa on Sunday has augmented his reputation as a diver, even though it is something which he dabbled in during his Aston Villa days.
The difference is he now plays for Manchester United. His profile has risen astronomically because of his employers, and United's unpopularity contributes to him being made a scapegoat.
Not that he isn't the first this season. Carroll's April Fools Day tumble under no contact was more comical than controversial, but he and Young are beginning to earn the treatment which befell Eduardo da Silva two-and-a-half-years ago.
He was initially banned for three European matches after he appeared to dive to win a penalty for Arsenal against Celtic, but the Gunners successfully appealed, apparently proving there was contact.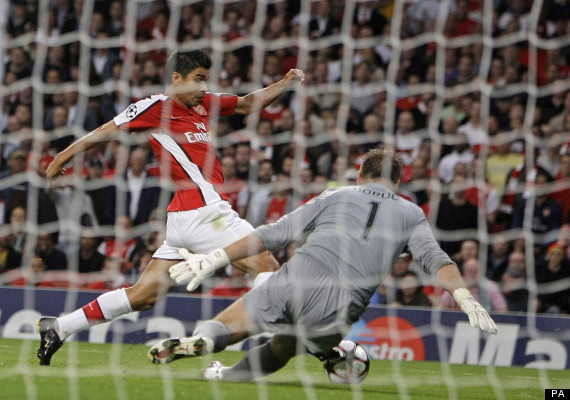 Eduardo wins his controversial penalty against Celtic
Judging from the video, it is hard to decipher where said contact was made, and even if it was, is it enough to fell a footballer?
Ex-Gunners striker Ian Wright this morning stated "If I want to see acting I'll go to the cinema."
This is the same Ian Wright who condoned Steven Gerrard's dive for England in a pre-World Cup 2006 friendly against Hungary. The former England international shrugged that if other teams were doing it, why don't England? When actually they had been.
However it is encouraging when someone as dyed-in-the-wool English as Wright is chastising Young. You knew it was bad when even Sir Alex Ferguson admitted his own player had "played for" a penalty, "overdid" the tumble and made it look "dramatic".
Contact on Young meant Mark Halsey's decision to award a spot-kick was the correct one, but the exaggeration rests uneasily with United supporters as much as it angers their opposition counterparts.
The advent of Twitter has also seen players lambast fellow professionals with more regularity. Newcastle's Ryan Taylor and Villa's Nathan Delfouneso both aired their dismay at Young's conduct.
So with Englishmen now "exposed", the authorities have two options: announce players will be punished for such theatrics, or do nothing, which essentially encourages footballers to wise-up and do the same thing.