Aaron Eckhart's grisly transformation as Harvey Dent in The Dark Knight will have been good preparation for this.
The big screen adaptation of the comic book I Frankenstein has called for him to take a trip once more to the prosthetics department, where he's been decked out with a host of scars and lots of dirt, to complete his bedraggled look of blazer and fingerless gloves.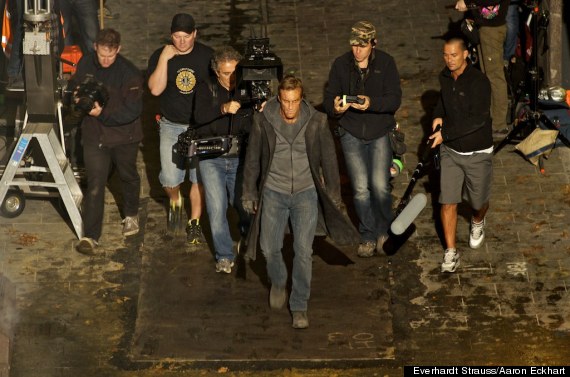 Aaron Eckhart is tapping into his dark side for I, Frankenstein
Eckhart is filming the horror-thriller in Victoria, Australia, where his co-stars include Miranda Otto, Yvonne Strahovski and our nation's favourite Bill Nighy.
Eckhart is playing Adam, who according to IMDB, "is a modern-day version of Dr. Frankenstein's classic monster, who gets involved in a war between two immortal clans in an ancient city".
Eckhart recently told Collider about his take on the classic monster-tale, "Frankenstein is an intelligent, evolved man, and that's how he is portrayed in this movie, for sure. In the book, he's very evolved. Somewhere in time, Frankenstein got dumbed down. He is a beast, but somewhere he lost his heart."
I, Frankenstein is due in UK cinemas next February (2013).