A Swedish politician has been accused of racism and bigotry after she was pictured with a cake art installation meant to highlight the issue of female genital mutilation.
Culture minister Lena Adelsohn Liljeroth was presented with the cake at World Art Day in Stockholm, where she was invited to give the monstrosity a "clitoridectomy", reports the Swedish newspaper Friatider.
The cake was part of an art installation made by Makode Aj Linde whose head was part of the "performance" presentation to Liljeroth.
Jim Crow Museum Of Racist Memorabilia 'Aims To Teach Tolerance' (PICTURES)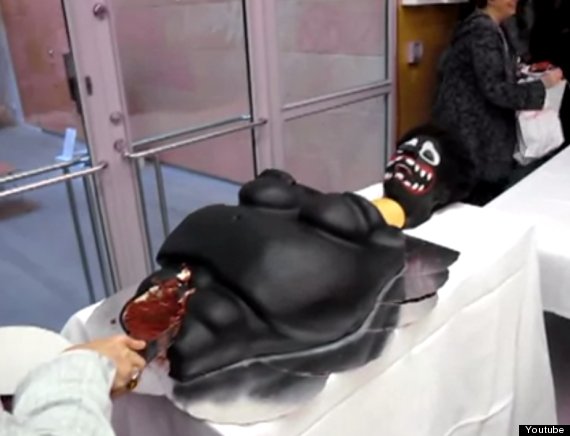 The 'racist' cake
In videos from the exhibition, the head of the cake (Linde) screams, as if in pain, while visitors crowd around.
However the artist's intention of highlighting the issue of female circumcision backfired, sparking anger and accusations from the African community in Sweden, the Local newspaper said.
People also took to Twitter to vent their anger over the installation, labelling it "racist" and "repulsive".
Female genital mutilation is the removal of part or all of the external female genitalia. In its most severe form, a woman or girl has all of her genitalia removed and then stitched together, leaving a small opening for intercourse and menstruation. It is practiced on the pretext of cultural tradition or hygiene.