When four-year-old Eddie Nicholls took part in a balloon race at school, he was hoping he would get a response.
He did - from Education Secretary Michael Gove, who replied after the balloon landed outside his department.
Eddie was thrilled, although his father, Henry, said the fact it was from Gove had rather "passed him by".
Gove's letter, dated March 30, arrived weeks after Eddie - now five - and his classmates at Halstow Primary School in Greenwich, south-east London, sent their balloons into the skies.
It read: "Thank you for your letter, which landed right outside my office, the Department for Education, here in Westminster today.
"The balloon must have floated all the way here from your school in Greenwich: right over the Thames, and past the London Eye, over Parliament, and maybe by the Tower of London. I imagine your classmates let go many other letters by balloon. I wonder who else will write back?
"I enjoyed reading that you like Star Wars, I like those films too. My children also like fun films, they have recently watched Despicable Me.
"Thank you again for your letter. It was a delight to receive post in such an unusual way."
Nicholls, 39, said his son got the letter after returning from his Easter holidays.
He said: "We didn't know he had sent the balloon; the first we heard about it was the letter which came home in his bag. Some of the other children got replies over the Easter holidays but this one was rather unexpected.
"All the children wrote messages but I don't know exactly what his message said other than it mentioned Star Wars and asked for the person to write back."
He added: "Eddie was four when he wrote the letter so it is pretty impressive. He was very pleased to get a reply at all, that was the main thing. Who the reply was from has kind of passed him by."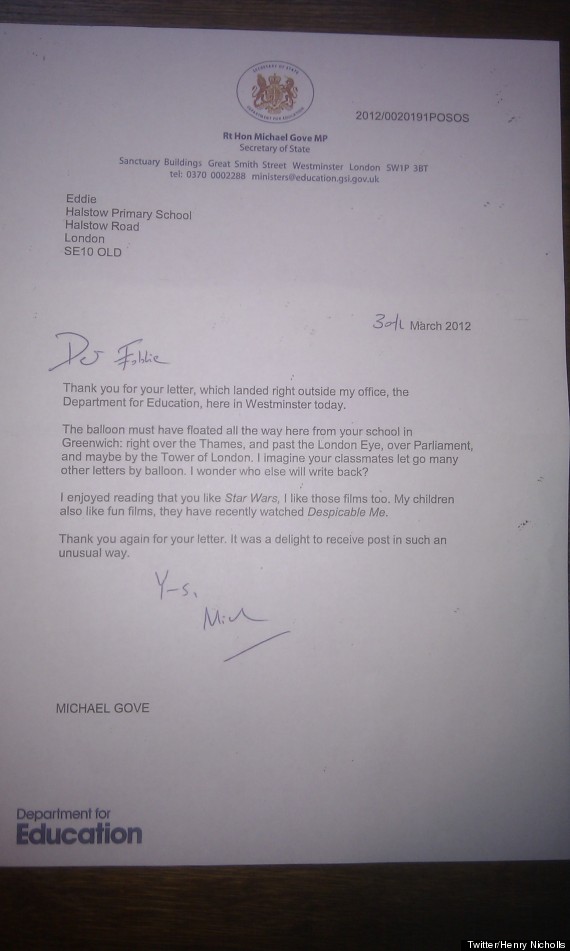 Check out the news of the day in pictures below: