Gordon Brown has condemned the international community for failing to protect the rights of children in countries ravaged by war to an education, calling the effects "devastating".
In a blog for The Huffington Post, the former Prime Minister launches a scathing attack on leading nations, accusing them of shying away from their responsibility.
Brown highlights the efforts of parents living conflict zones who make "extraordinary efforts" to sustain the hope which goes hand in hand with education - but adds they are unsupported.
"Sadly, the same cannot be said of the international community," he says, and cites South Sudan as the "latest country to demonstrate the inadequacy of the current aid architecture for education".
In this region, according to Brown, girls are more likely to die in childbirth than they are to make it through primary school. This is despite child death rates falling 20% since the peace agreement in 2005 which ended a brutal and bloody civil war.
Brown writes:
South Sudan's parents have demonstrated extraordinary resolve, innovation and ambition in attempting to get their children into school. Their efforts are inspiring and humbling in equal measure. Schools for their children was the most important demand of parents crossing as refugees from the old Sudan into the new South Sudanese state. Unfortunately, the same cannot be said of the international aid community.
He condemns those who argue putting the entirety of the region's children through school in the still-fragile climate is "unrealistic", and asks: "Where is the 'realism' in denying a whole generation of children the chance of an education that could transform their lives?"
In January, Brown called for the creation of a worldwide fund to combat what he describes as the "hidden and silent emergency in education". At the time, he claimed progress towards the United Nations' goal of universal primary education by 2015 had stalled and urged the developed world to reignite the drive to provide education worldwide.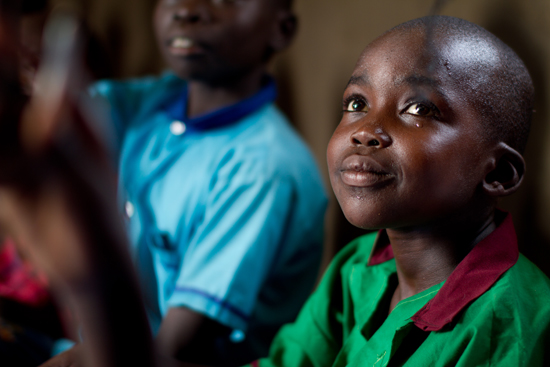 A boy listens to his teacher during a lesson at the improvised Hai Kugi School on the outskirts of Juba, South Sudan. © UNESCO /M. Hofer (2011)
Brown's philosophy is ambitious but admirable: "When it comes to education. there should be no borders".
His new campaign, the aptly named Education without Borders, aims to support and deliver education for those children unfortunate enough to be trapped in conflict zones and forced to flee their homes.
"We need to stop viewing education as part of the collateral damage that comes with conflict," he concludes. "For children trapped in conflict, education can help to create a sense of normality and keep alive the hope of a better future.
"These children need our help -- and they need it now."