China has vowed to "thoroughly investigate" events surrounding the suspected murder of British businessman Neil Heywood.
The ruling Communist Party made the commitment just hours after Prime Minister David Cameron raised the case at talks in Downing Street with its propaganda chief Li Changchun.
A statement released by China's official Xinhua News Agency said the party's Central Committee "has made a resolute decision to thoroughly investigate related events and release information in a timely manner, a manifestation of its high sense of responsibility to the causes of the party and the people".
Cameron yesterday demanded assurances from Li over inquiries into Mr Heywood's death and offered China "any necessary assistance" in its investigation.
The 41-year-old old Harrovian was found in a hotel in the south western Chinese city of Chongqing last November, with reports suggesting he may have been poisoned.
At the of Heywood's death, Chinese officials said the British expat died of "excessive alcohol consumption".
But friends questioned this, saying the businessman was not a heavy drinker.
The Mail on Sunday quoted "respected Mandarin-language websites" saying Mr Heywood, 41, died from cyanide poisoning after allegedly having an affair with lawyer Gu Kailai, wife of Bo Xilai.
It was reported that Kailai was arrested in connection with the investigation last week.
Reports from China have claimed Heywood was a friend of the family and that the two fell out after he demanded a higher fee for helping her to move money out of the country.
Bo, a former rising star in the party, has since been removed from his post and suspended from his seat on the Politburo in a move linked to a power struggle in the Communist Party elite.
The scandal began in February when Mr Bo's former right-hand man, Chongqing ex-police chief Wang Lijun, visited to the US consulate in Chengdu and expressed suspicions about Heywood's death, which was originally deemed accidental.
The statement released by the Chinese ruling party added: "Based on the facts made public so far, the Wang Lijun incident is a serious political event that has created an adverse influence both at home and abroad, the death of Neil Heywood is a serious criminal case involving the kin and aides of a party and state leader, and Bo has seriously violated party discipline."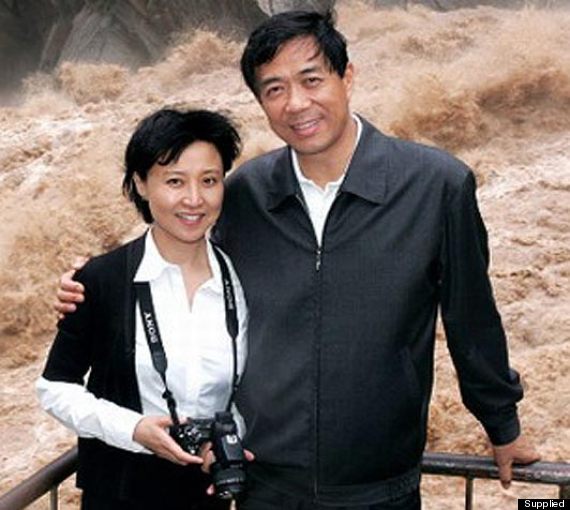 Bo Xilai and his wife Gu Kailai, who has been accused of involvement in Neil Heywood's murder
Foreign Secretary William Hague yesterday set out a detailed defence of the Foreign Office's handling of the case, amid complaints by MPs that it took them three months to raise it with the Chinese authorities.