A first edition of Oscar Wilde's The Importance Of Being Earnest, dedicated by the writer to his first gay lover, is going under the hammer.
The book, expected to fetch 120,000 US dollars (£75,290), was given to Robert Ross in February 1899, with the inscription: "To the mirror of perfect friendship, Robbie, whose name I have written on the portal of this little play. Oscar."
Ross, the first man Wilde had a sexual relationship with, met the writer in Oxford in 1886 and moved into his London home the following year.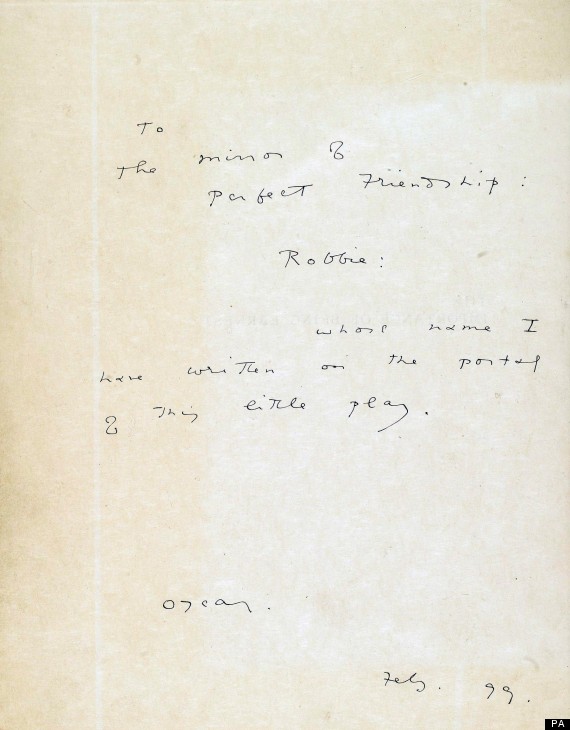 The inscription from Wilde to Robert Ross
After their relationship ended the Canadian, who was from a wealthy family, supported the playwright through his troubles.
He broke into Wilde's flat to remove potentially incriminating papers before police arrived, after The Picture Of Dorian Gray author was arrested.
He also managed Wilde's financial affairs and helped to raise funds for him, organising an auction of his house and its contents so he could avoid bankruptcy.
After Wilde's death at the age of 46, in exile in France, Ross became literary executor, securing the rights of Wilde's plays for his two sons from his marriage to Constance Lloyd.
The book is one of only 12 Japanese vellum copies, of which the whereabouts of six are known. Only one has appeared at auction in the last 30 years.
It is being auctioned from the library of Jaques Levy at Sotheby's New York on 20 April.
Check out the news of the day in pictures below: