As Pippa Middleton emerges from last weekend's gun drama, footage of the decadent party she had attended the night before has been released.
The younger sister of Kate Middleton donned a tight bodice lined with pink satin bows at the 18th century-themed fancy dress event thrown by her friend the French designer Arthur de Soultrait.
Pippa was snapped perched on de Soultrait's mock throne as he wore a King Charles wig and invited guests to lead him around by a dog collar. Meanwhile, dwarves patrolled the party serving champagne.
According to The Sun, Pippa was seen "passionately" kissing French playboy Antoine De Tavernost.
Video of the party was released by French television channel Canal+.
Scroll down for many more images of Pippa Middleton at the party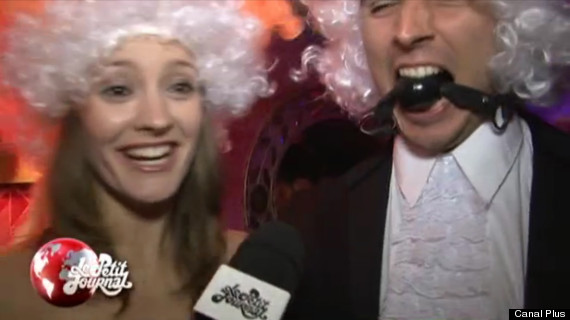 I say! A be-wigged reveller poses with a rubber ball gag in his mouth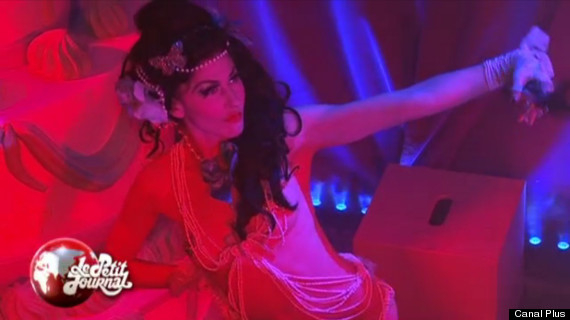 Red light: A burlesque dancer strikes a pose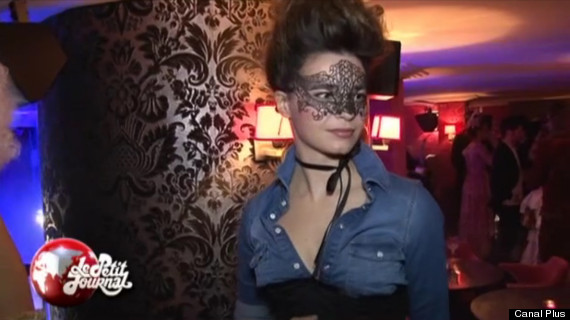 Sexy: A lace mask barely conceals this women's identity
It features strippers, dancers and a man holding a rubber ball gag sex toy in his mouth. The celebrations climaxed with a burlesque dancer leaping out of a cake to commemorate de Soultrait's 30th birthday.
Heaving cleavages and bondage masks are also very much in evidence. At one point Pippa is introduced to the camera by de Soultrait's younger brother Marcy as his new "petite amie" (girlfriend).
The interviewer asks Pippa what she thinks of the "French flair" to which she giggles "amazing". He continues, asking her "Do you speak French?"
Pippa replies: "Un petit peu!" and dances off.
Party invites to the lavish event read "Le Roi est Mort, Vive le Vicomte", which translates as "The king is dead, long live the Vicomte".
The footage emerged as it was claimed Prince William's sister-in-law will not face police questioning over the incident which saw her photographed in a car as her companion brandished what appeared to be a gun at a photographer.
The younger de Soultrait told the Daily Mail the gun was a toy and that "you English need to get over it."
He added of Pippa: "She thinks this is all a joke and a funny game."
The pictures came just weeks after France was rocked by a series of gun massacres and caused outrage on both sides of the Channel.
SEE ALSO: