The addictive drawing app Draw Something from Zynga has just got more social.
Players can now share their Draw Something masterpieces on Facebook and via Twitter on the Apple iPhone and iPad app. The Android app will soon get the feature too.
You can now share your pictures once they're complete, or add a comment when you're finished drawing your latest challenge, as you can see below.
This is great news for those with exceptional finger-painting skills, but possibly bad news for those overwhelmed by Draw Something invitations or whose drawing ability needs a boost.
Dan Porter, former chief executive of OMGPOP, now vice president and general manager of Zynga Mobile New York, told The Guardian: "I look at these as features that are about reinforcing the social relationships."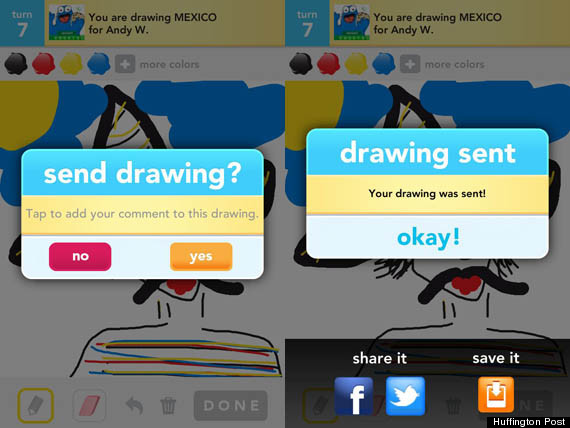 Bad news for Windows phone and BlackBerry users, Porter says the app won't be coming to those platforms any time soon.
He told The Guardian: "We're on two pretty big, exciting platforms that have a lot of runway, and we have a very supportive relationship with Apple and Google, so…"
More on Draw Something:
Join our Draw Something Challenge and get featured on The Huffington Post.
Forty Utterly Questionable Draw Something Pictures
Best Draw Something Pictures Of The Week.
Click Through The Draw Something Pics Of The Week
Draw Something Pictures Of The Week