It's official - we want to be in Katy Perry's gang. Just look how much fun she and her pals are having!
K. Pez and her mates have filmed their own video version of Carly Rae Jepsen's Call Me Maybe, posting it to YouTube.
After both Selena Gomez and Justin Bieber made their own versions to the current UK number one, Katy decided it was time she got in on some of the action, as she larked about poolside at an LA mansion.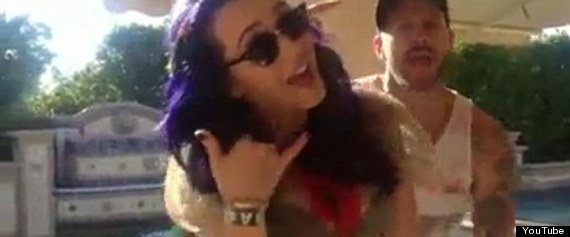 The gang filmed the clip before they headed to Coachella festival, where Katy was seen partying with pop pal Rihanna.
Wearing a headband and a floaty top, Katy showed off her elf-like fashion which she continued last night at an awards bash. The singer wowed in a full length nude gown with glittery embellishments, but had trouble with the old straps which kept falling down. Katy put on a brave face for the cameras despite reports last week that she split with boyfriend Baptiste Giabiconi. A source told Star magazine that Katy had dumped the French model.
"[Katy's pals] warned her that Baptiste was trying to raise his own profile and boost his singing career.
"But Katy was vulnerable and lonely after the split. She loved the attention Baptiste lavished on her - and she wanted to make Russell jealous."
They added: "When she realised he was more into her connections than her personally, she dumped him."
> IN PICS: KATY'S MARRIAGE TO RUSSELL BRAND
Katy Perry & Russell Brand Before The Divorce