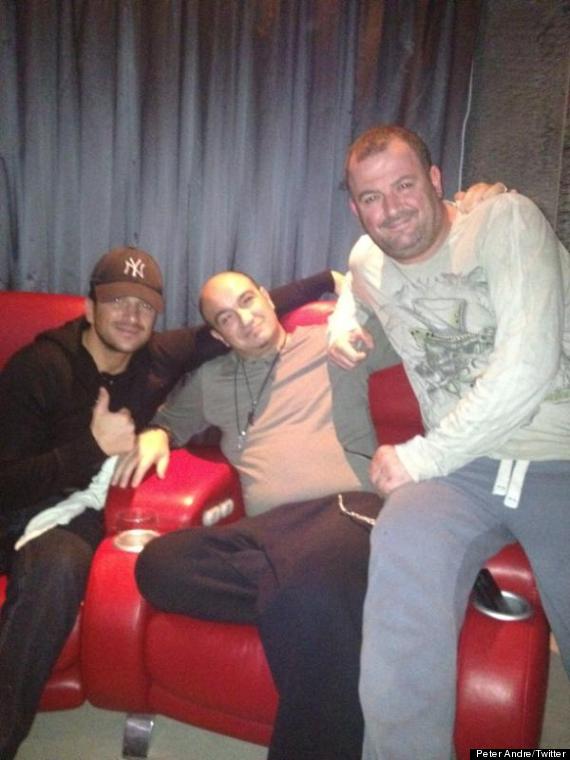 Peter Andre has tweeted a photo of himself with his cancer-stricken brother Andrew as the family rallies around to support his battle.
Pop star Peter has flown his brother to the UK from Australia and has even built an extension on his Sussex home to ensure Andrew is comfortable.
The star ensured his brother was referred to pioneering research institute The Royal Marsden hospital and Andrew has been receiving treatment at its unit in Surrey.
Despite being told by doctors the kidney cancer is terminal, the smiling trio appears positive in the picture and Peter gives a thumbs-up.
On his brother's illness, Peter recently told Heat: "I was horrified, so shocked, and I broke down. The tears were just rolling down my face and I've cried every day since. I knew that if I could get him into the Royal Marsden Hospital, he could get trial drugs as well as chemo. It's a cancer research hospital, and I knew the treatment there would be his best chance, so there was no option."
And it seems the stress of the situation is getting too much for reality star Peter - he is currently filming TV show Peter Andre: My Life but is said to have considered quitting showbusiness altogether.
A source told Now magazine: "By his own admission, Pete doesn't cope well with stress... Some have criticised his decision to carry on with public appearances and photo calls, but his friends want people to know the truth: everything Pete's doing is for his brother and with his blessing.
"Many times over the past few weeks, Pete's tried to quit showbiz altogether. He's begged his manager Claire Powell to cancel all his filming and promotional commitments so he can spend every waking moment focusing on his sick brother. But brave Andrew's urged Peter to carry on."