A British woman has revealed how a Jequirity bean bracelet bought on eBay 'ruined her life' after it became toxic.
Jo Wollacott from Bridport, Dorset, claims the bracelet, made from a thread of red and black 'love' beads (jequirity seeds), caused sickness and severe hallucinations.
Jo claimed the hallucinations become so bad, she ended up being sectioned under the mental health act.
The mother-of-two also suffered from skin abrasions, hives and the £1 deadly beads she was wearing on her wrist even caused abscesses in her mouth during her ordeal, unbeknown to her.
"I was being physically sick throughout the summer - suffering diarrhoea and vomiting - but I just put it down to having a bad bug. Then my life started to spiral out of control." Wollacott told SWNS.
Talking about being sectioned in the Forston Clinic, Dorcester in 2010, Wollacott said:
"I was also in hospital for a few days with hallucinations - I did not know what was going on. Doctors could not work out what was wrong with me - they did not know what medication to put me on."
Sadly, Jo's mystery illness got so bad, her relationship broke down and she was forced to quit her mosaic design business. Jo later run into debt and had to sell her home as a result.
After suffering from ill health for over a year, Jo decided to stop wearing the bracelet and put it away in a jewellery box. It wasn't until after she did this, that her symptoms began to improve.
Following her recovery, Jo's son, Dagan, bought a letter home from school warning about the dangers of Jequirity bean bracelets.
"The letter had a picture of my bracelet on. When I got the warning letter I came home and got the bracelet and realised how long I'd been wearing it for.
"I couldn't believe it. When I found out hallucinations were part of the side affects of the bead poisoning I started to piece things together."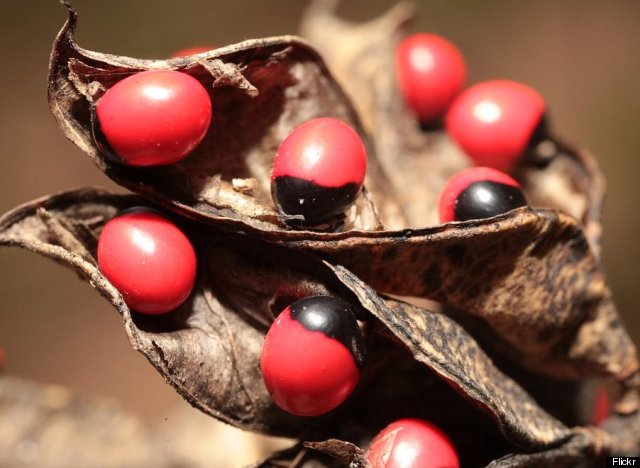 What are Jequirity beans?
The Jequirity bean bracelet is made from the deadly seed of the plant, abrus precatorious, which originate from Peru. It contains the toxin abrin that if swallowed, has the potential to kill in doses of just 3 micrograms. Abrin is chemically similar to ricin, a chemical warfare agent.
The abrin substance is currently prohibited under the Terrorism Act due to its deadly drug-like compounds and poison content.
The Public Health Agency (PHA) has recently issued a warning about a potential health risk associated with a strung seed bracelet in the UK, with it prompting the Eden Project, in Cornwall, to recall all of its bracelets as a result.
Dr Gerry Waldron, a health protection consultant from the PHA, said in a statement: "The beans have a characteristic red and black ladybird-like appearance.
"Although these bracelets are not known to have been sold through any outlets in Northern Ireland, the PHA is alerting the public so that in the unlikely event that anyone has one of these bracelets, they can dispose of them safely.
"People who have been bought or given this type of bracelet in the last two years should put it in a sealable bag and dispose of it in their household waste. As an additional precaution, owners should also wash their hands and avoid contact with eyes after bagging."