Arsenal hit five past Chelsea in October in what was another game which summed up the Premier League's defensive regression.
For a team ostensibly in decline, the Gunners have also scored five against Tottenham, put three past Milan and beaten Manchester City and Liverpool this season.
But they have not done the double over the Blues since the 2003/04 season, when Arsene Wenger's side last won the league.
Two 2-1 wins at Highbury and Stamford Bridge saw them overcome Claudio Ranieri's team in what was the first season of the Roman Abramovich era in the blue half of west London.
Roberto di Matteo, basking in the aftermath of overseeing a win over Barcelona, is still under pressure domestically. Chelsea lie outside of the Champions League places, and cannot rest on their laurels to win their first ever European Cup to ensure qualification for a tenth successive campaign in the competition.
Good news for Wenger came via Chelsea's Cobham training complex, when it was announced Didier Drogba, who has scored 13 times in seven seasons against Arsenal, is out of Saturday's game with a knee injury.
A win for Arsenal will take them 10 points clear of their visitors, while Tottenham and Newcastle - sandwiched between the Reds and the Blues - are away at QPR and home to Stoke respectively on Saturday.
To warm you up ahead of the pick of the weekend's matches, here's five memorable moments between them...
PETER OSGOOD'S GOAL OF THE SEASON VOLLEY, 1972/73
The King of Stamford Bridge earned his nickname with a few pearlers in front of the Shed End, and this wonder strike in the early 70s - when he was coming to the end of his 10-year stint with Chelsea - made his crown glisten even more.
NIGEL WINTERBURN'S WINNER, 1997/98
A reliable defender, Winterburn however did not offer the attacking threat of his left-back 90s peers, such as Manchester United's Denis Irwin or Blackburn (and Chelsea's) Graeme Le Saux. He scored just 12 goals in 13 seasons at Highbury, but while 11 are forgettable one isn't.
In the final minute of an Indian summer match, he struck a superb distance effort to win a ding-dong thriller 3-2 for Arsenal. Sylvinho would repeat a similar trick three years later, but that levelled the game, rather than won it.
Robin van Persie isn't the first hat-trick hero for Arsenal fans at Stamford Bridge. In 1999 Nwanko Kanu executed a magnificent trio as the Gunners came from 2-0 down to win the game in the final minute.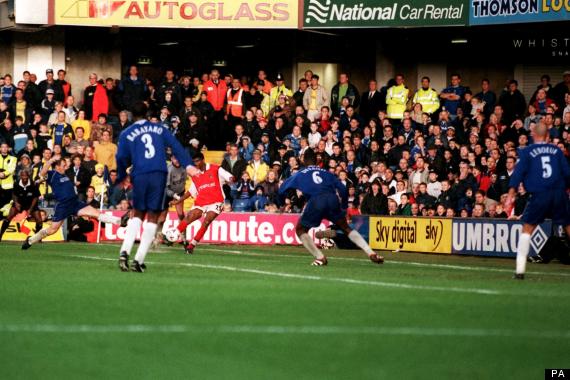 In their previous home league match, the Blues demolished Manchester United 5-0 at the Bridge, but Kanu, perhaps at the peak of his career, made a mockery of the Premiership pretenders.
ESSIEN'S EXOCET, 2006
When Essien hit, what Andres Iniesta described as, a "one-in-a-million" volley against Barcelona in 2009, it posed the question as to whether he had topped this strike two-and-a-half-years earlier.
The answer is probably not. Whereas the Ghanian's hit past Victor Valdes was exceptional, his equaliser against Jens Lehmann required controlled technique whilst leaving the German with no chance. He emphatically ticked both boxes with a swerving, laws-of-physics-defying goal which clinched a 1-1 draw.
It also prompted a memorable fist-pumping celebration from Jose Mourinho on the touchline.
CARLING CUP KERFUFFLE, 2007
Wenger's Young Guns, loyally fielded having sealed the club's passage to the final at Cardiff's Millennium Stadium, had run out of steam and effectively lost the League Cup final when tempers boiled over.
John Obi Mikel's overzealous challenge on Kolo Toure sparked off a melee which saw Cesc Fabregas grapple with Frank Lampard before Jose Mourinho and Arsene Wenger burst onto the pitch in a bid to placate the players.
Three were sent off, including Mikel and Toure, as well as Emmanuel Adebayor for slapping Wayne Bridge. Bridge appeared to make a meal of it but his well-being was in question after the game.
"We've got the three points and that's all that matters." Three points. In a cup final.