Brad Pitt and Angelina Jolie should enjoy the peace and quiet while they still can.
Before long they will be busy planning the biggest showbiz wedding... ever!
So with that, the whole Jolie-Pitt clan jetted off to the Galápagos Islands for some R&R following the official announcement of their engagement.
Brange and their six kids are said to be staying at the exclusive Royal Palm Hotel resort, after arriving by private jet and a luxury yacht.
But yesterday, they travelled in less style as they boarded a coach.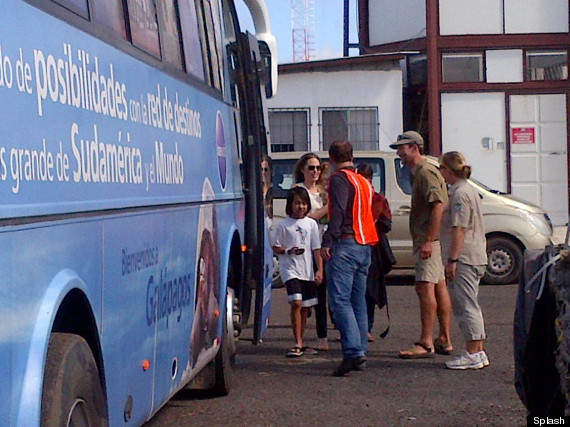 Meanwhile, more details of Brad's proposal have emerged with a source telling Us Weekly magazine of how Ange blubbed when he popped the question.
"Angelina cried and smiled," they said.
"Everyone hugged once she put the ring on. She went around and showed it to each of the kids. Angie considers herself bonded to Brad for life."
Earlier this week, Angelina was spotted flaunting her engagement ring - rumoured to be worth quarter of a million dollars - which was designed by Brad.
> IN PICS: BRAD AND ANGE'S ROMANCE
Angelina Jolie & Brad Pitt