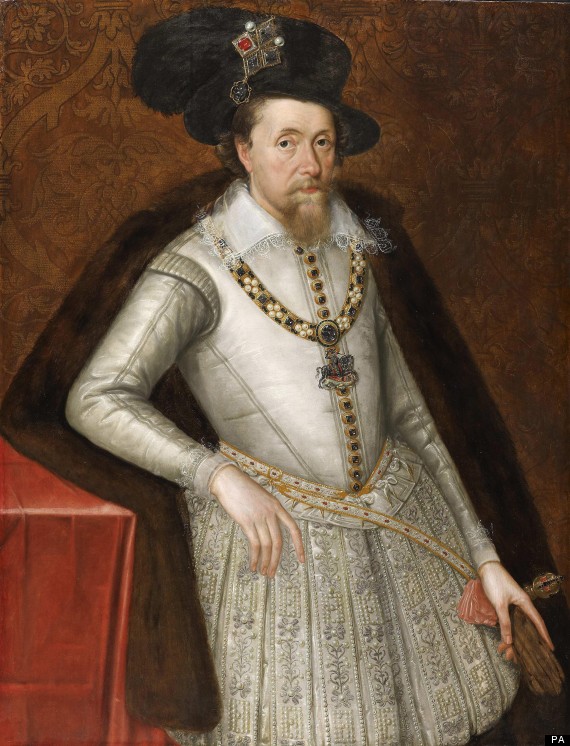 James I: home again
A painting once given by the king to the owner of a stately home has been returned to hang in the house again.
A portrait of James I by Flemish artist John de Critz was given by the king as a gift to his loyal supporter Sir Edward Phelips, and was hung at Montacute House in Somerset.
The painting - sold long before the National Trust acquired Montacute in 1931 - was bought by the trust at Sothebys for £199,250.
Now it is set to return to the house, being given a prominent position in a room on the top floor, among other fine works on loan from the National Portrait Gallery.
The house staff have been so excited by the return of the portrait of James I - who ruled from 1566 to 1625 - that they have set up iPads to show extra information about the painting and its conservation.
"We sent the painting away for conservation work and detailed investigation," said Sonja Power, the trust's house and collections manager.
"As a result there is so much we'd like to tell people about it - including X-ray photographs which have revealed an under drawing - that we decided iPads were the best way to share."
The painting was bought thanks to the bequest of Moira Carmichael, who for more than 10 years worked at Montacute as a room guide.
A former Navy wren, Miss Carmichael had a great affection for the house and left her bequest to help furnish Montacute.
Her present-day successors, the volunteer house guides at Montacute, will be on hand with the iPads to give visitors a deeper insight into the painting.
For those with smart phones, the information will be available to download through matrix barcodes alongside the painting.
"The painting is a magnificent portrait of James I, with astonishing detail in his clothes, right down to fine detail in individual pearls," said Mrs Power.
"We imagine it would have been given pride of place by Sir Edward when he was given it so we decided we should give it a special prominence in the galleries here."
Sir Edward served as the Speaker of the House of Commons and was one of the prosecutors in the trial of Guy Fawkes in 1605.