A giant image of the Queen made up of thousands of self-portraits of children has been projected on to Buckingham Palace.
The Prince's Foundation for Children & the Arts is behind the project to celebrate young people before the Diamond Jubilee and London's Olympic and Paralympic Games.
More than 200,000 self-portraits have been used to create the picture of the Queen, which will be displayed on the front of the palace each night until Saturday as part of the Face Britain project.
Jeremy Newton, chief executive of the foundation, said: "We had to get the Queen's approval, of course, because we're projecting on to the front of her home.
"I'm delighted to say Her Majesty loved the idea and loves the imagery. She had a little sneak preview earlier this week and gave it her full approval.
"Face Britain is about empowering children to explore their identity creatively. In this project they have used the arts to communicate how they see themselves, giving us all a unique snapshot of our country's future generation."
Children aged four to 16 were asked to produce their own self-portraits using drawing, textiles, 3D, painting, graphics, and photography.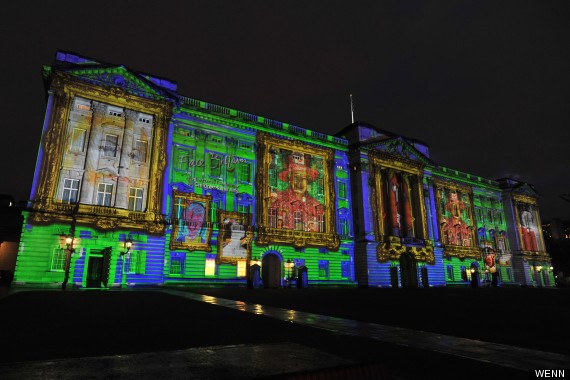 Buckingham Palace: as you've never seen it before
The entire front of the palace is being covered with animated images and effects, including two 15x10 metre images of the Queen, through the use of 24 video projectors.
The self-portraits which create the Queen's image will be simultaneously screened on big screens in 18 locations across the UK, as well as some train stations and shopping centres.
Organisers are hoping to smash the Guinness World Record for most artists working on the same art installation - the previous record is 28,267 artists who contributed to an installation in Israel in 2009.
The projection has been created by artist Ross Ashton, who has previously worked on the closing ceremony of the 2010 Fifa football world cup and London's 2008 New Year's Eve celebrations.
Celebrities including Adele, Jamie Oliver and Sir Cliff Richard have backed the project by donating their own self-portraits which will be auctioned online from 3 May.
Christie's auction house will also host a gala dinner on May 9, with self-portraits donated by the Prince of Wales and a host of well-known artists.
The children's self-portraits which have created the Queen's image will then be stored by the British Library.
The Face Britain project runs from 8.30pm to 11.15pm until Saturday.