It is just a week to go until Manchester City host Manchester United in the Premier League title showdown at the Etihad Stadium.
United's complacent 4-4 draw against Everton on Sunday enabled City to take the initiative in the title race as they defeated Wolves 2-0 to cut the deficit down to just three points with three games remaining.
On Easter Sunday, United were eight points clear of their noisy neighbours, but an abject defeat to Wigan followed by two dropped points against the Toffees at the weekend have been capitalised upon by the Citizens, who have won three on the trot.
After the top two clash on the May Day bank holiday, City travel to Newcastle before hosting QPR while United face Swansea at Old Trafford prior to a north-east trek to Sunderland for their final game of the season.
The evening kick-off only fuels anticipation ahead of the match in seven days time.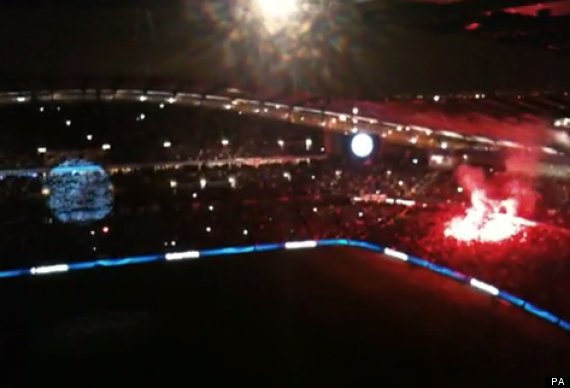 Blue moon v red flare
In the last two seasons, City have played United twice nocturnally at Eastlands, compelling a pre-match warm-up of a blue moon enlightening a darkened stadium.
But twice United fans have retorted with a red flare for a white hot atmosphere, augmenting the tribalism. Both those games fade into significance in comparison to the 30 April fixture though.
City have not won the league since 1968 when they edged out United, but have hardly come close during that duration. They have suffered relegation on four occasions during the 44 years and yielded just four major trophies.
And we go back to the Blues' heyday of Lee, Bell and Summerbee as they faced United's Holy Trinity of Best, Law and Charlton - although Denis was absent for this six-goal thriller from Maine Road in November 1971.