Chelsea will finally exorcise the ghost of Tom Henning Ovrebo and 2009 if they progress past Barcelona to the 2012 Champions League final tonight.
A slender one-goal lead courtesy of Didier Drogba's strike last week offers the Blues hope as they enter the Camp Nou cauldron to face Barcelona's wounded animal.
Back-to-back defeats to the west Londoners and Real Madrid in Saturday's clasico make this fixture the biggest test of Pep guardiola's four seasons in charge.
Lionel Messi too has suddenly begun to toil on the big stage as opponents nullify his effect, while Andres Iniesta's poor season is being patented by his wing role and the team have often looked stuck for a Plan B.
Former Chelsea manager Ruud Gullit reaffirmed his allegiance:
In the Blue corner and under Roberto di Matteo, Chelsea have been building up to this moment since the Italian took charge.
Away at Chelsea and Arsenal, as well as at home to Tottenham, they have exhibited reticence in preparation for Pep Guardiola's side, drawing two 0-0s and conceding just twice in the three games.
Now, for 30-somethings such as John Terry, Ashley Cole, Frank Lampard and Didier Drogba, they must fulfil a dream that will never go away in Barcelona, as Queen might say.
Here's five essential things the Old Guard must do to guarantee their ticket for the Munich final:
PLAY LIKE STOKE AGAIN
Last week, Chelsea acknowledged their inferiority and limitations with a regimented, catenaccio display. Barcelona should have won, let alone scored an away goal, but also looked unsettled whenever a blue wave surged into their third of the pitch. Branislav Ivanovic, now known as "Delapovic" after his long throws, may struggle to make the Blaugrana 18-yard box on Camp Nou's notoriously wide pitch from the sideline, but Di Matteo's charges must utilise brawn over brain to triumph.
Omens anyone? The home side have not failed to score in a knockout match at their stadium since the last four stage against tonight's visitors three years ago.
Juan Mata tweeted his delight to be in back in Spain:
DON'T FALL INTO THE TRAPS
Lamping Sergio Busquets or Dani Alves is always tempting, but making no contact with them - let alone leaving them on a stretcher - can get you into trouble.
Busquets or Alves often dangle the bait in front of snappy opponents. The former executed this shamelessly two years ago, when his theatrics got Thiago Motta sent off as Barcelona sought to overturn a first leg deficit against Internazionale. It didn't work (Inter lost 1-0 on the night but won 3-2 on aggregate), but Barca were camped so deep in the Nerazurri's half goalkeeper Victor Valdes could have watched it from an on-pitch deckchair.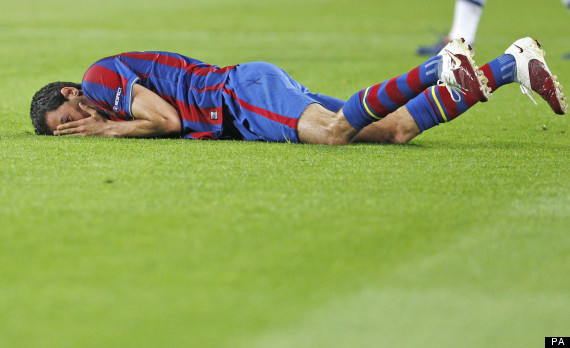 Cheat
On the three occasions Chelsea have lost to the Catalans in the Champions League, they have had a man sent off. Join the list of Celestine Babayaro, Didier Drogba and Asier del Horno at your peril.
SUFFOCATE SERVICE TO MESSI
Literally suffocating Lionel Messi has often been an attractive option, but Real Madrid have recently shown the way forward in thwarting the Argentine. On Saturday, he was subdued in his customary false nine role because Jose Mourinho's Madrid pressed Barcelona's midfielders, stopping their supply line to their little genius.
So impressive were Mourinho's tactics that Messi looked visibly annoyed and began chipping away at the referee at half-time, further handing the initiative to Los Blancos. Guardiola then admitted defeat when he brought on Alexis Sanchez to take Messi's role, with the World Player of the Year dropping deeper. Almost immediately he effected the game; his surge from near the halfway line led to Sanchez's equaliser, but thereafter Madrid learnt from their lapse and hounded him expertly. But do Chelsea's Old Guard possess similar stamina? Messi has not scored in seven games against them...
GET THE REFEREE ONSIDE
This is perhaps as difficult as stopping Barca from scoring, especially in the presence of 90,000 baying Catalans. Turkish referee Cuneyt Cakir will preside over matters after Felix Brych officiated excellently at Stamford Bridge last Wednesday, in what is by far and away his biggest assignment.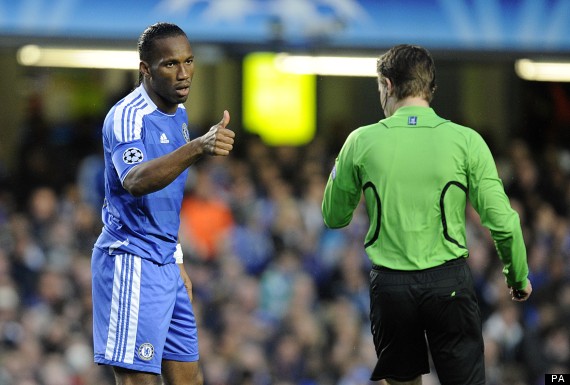 "I can't thank you enough for the stoppage-time."
Cakir only made his Champions League bow last season, but whereas Ovrebo was always a suspect choice given Scandinavian football's trouble-free nature, Cakir will have experienced the partisan and fervent crowds of its Turkish equivalent. Thuggery and theatrics often go hand-in-hand in the Balkan league, but Barcelona often surround referees like a swarm of bees around a pot of honey, and John Terry - hardly shy - may have to show similar appetite for the pot.
Even Jeremy Vine's getting involved:
DON'T START DANIEL STURRIDGE
Nobody likes a ball-hogger. At school during lunchtime kickabouts, they were more exasperating than learning the times table, and when you advanced to a higher level of football at secondary school, they would get found out. Greed is not necessarily good, Mr Gekko.
So as technically terrific, quick and nimble Daniel Sturridge may be, he is the last player who should be on the pitch for the Blues. And that includes Paulo Ferreira. His unwillingness to pass on Saturday would have made him an ideal candidate for Mastermind and such was his avarice on the ball he was even winding up football fans who hate Chelsea. Barcelona may score less points on Mastermind ("Pass. Pass. Pass.") but tonight ain't no quiz show.