Hundreds of demonstrators demanding equal citizenship and pensions rights for former Gurkhas have descended on Westminster, amassing outside the Ministry of Defence and the Houses of Parliament.
The protesters - marching peacefully but clearly angry - had expected to meet David Cameron in Downing Street to deliver a petition against what they say is unfair treatment by the UK government. However they allege the PM cancelled the meeting two weeks ago, something which has clearly led to fury among those campaigning for Gurkhas' rights.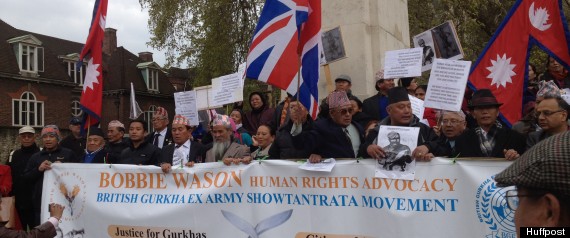 Nabina Gurung, a representative from the newly-formed action group Enough Is Enough, told HuffPost : We were supposed to have a little chit-chat with the prime minister himself, however because of his busy schedule he couldn't meet us.
"We did hand over a petition to his secretary," she said. "Hopefully although we know that there's greater problems, the problems we are facing are too much to bear. So I hope he reads the petition."
Garung said they were told a fortnight ago that the PM's meeting with them had to be cancelled. "We had been planning this for some time," she told us.
The Gurkas - Nepalise soldiers who have fought alongside the British army for more than 200 years - won a long battle to be able to settle in the UK in 2009, when then home secretary Jacqui Smith bowed to immense pressure, led by the actress Joanna Lumley.
However since then the Gurkhas have continued to protest at a decision to block those who retired before July 2007 to join the regular UK armed forces pensions scheme. They say they receive a third of the pension handed to UK-based soldiers.
Nabina Gurung told us: "When Joanna Lumley helped this campaign forward, the Gurkhas were given a settlement grant and we were pretty happy with it, but we didn't know the consequences after getting the settlement. The veterans have come to this country and are suffering a lot. The government is just blindfolded, they're not willing to treat us as equal as the British soldiers. We want equal rights."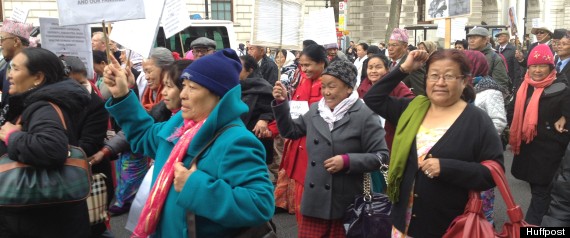 Among the crowd were British people who are not related to former Gurkhas but who have strong sympathy with their cause. Sadia Awan from London said she was marching in solidarity. "They deserve to be part of this country, just as we are," she told us. "I believe in their cause and I think just as my family fought to be in this country, so should they be allowed to, because they actually did more."