A huge rise in the number of pet owners convicted of animal cruelty is pushing the RSPCA to "breaking point", the charity said.
Convictions under the Animal Welfare Act rose by nearly a quarter last year, according to figures from the RSPCA. Shocking cases included a dog repeatedly stabbed with a potato peeler, a blind kitten found dumped in a carrier bag and a dog left in a house where five other animals had died of starvation, the charity said.
It revealed that around 1,340 people were prosecuted for animal cruelty and neglect in 2011, a 23.5% rise on the previous year.
Some 1,100 people were banned from owning pets last year, while 74 prison sentences were handed out for animal cruelty (a 21% increase), the charity said.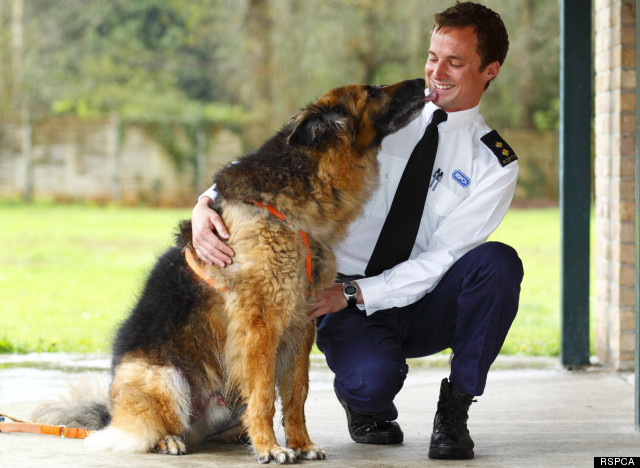 Alsatian cross named Soldier, who when he was discovered by the RSPCA, was emaciated weighing 21kg and with a badly matted coat. (see top pic) He is now 42kg and has been nursed back to health. He is looking for a home.
The RSPCA warned that soaring numbers of cruelty cases had left the charity facing a funding crisis.
The charity's chief executive Gavin Grant said: "The RSPCA faces a crisis that is stretching us to breaking point.
"We show zero tolerance to animal abusers. Anyone causing animals pain for profit or pleasure will be tracked down and prosecuted.
"We need the courts and councils, police and people who care to join us in standing up and getting justice for Britain's abused animals."
SEE ALSO:

Jilted Boyfriend Stamped On Hamster And Fed It To His Dog After Girlfriend Dumped Him
The RSPCA received more than 1.3 million phone calls last year, with 3,036 pet owners reported to its prosecutions department.
There were also 230 convictions involving cruelty to farm animals last year, the charity revealed.
Sally Case, the RSPCA's head of society prosecutions, said: "The RSPCA strives to keep animals with their owners wherever possible and offers advice on improving their welfare. Overwhelmingly, this advice is followed but where it isn't or where someone has already harmed an animal, there has to be a way of ensuring that animals are not left to suffer.
"The RSPCA is the charity people turn to, and we are struggling to continue providing this service.
"Of course we work closely with governmental and other charitable organisations but we are the main organisation which prosecutes those who abuse animals and which can prevent cruelty to animals."
Meanwhile a rising tide of animal abuse in Wales is pushing RSPCA Cymru to crisis point, the charity warned on Tuesday.
Convictions for animal cruelty and neglect in the principality were up by almost a third last year.
But the rising success rate in court, and lengthy investigations behind each case, are stretching resources to breaking point.
The charity is seeking donations during RSPCA Week 2012 which runs from April 30 to May 6. To donate, call: 03001 238 000 or go online at rspca.org.uk/donate.
Soldier is one of the RSPCA's success stories