A black bear which wandered onto a university campus in the US state of Colorado was filmed falling from a tree after being tranquillised for the safety of the students.
A soft landing was prepared for the 200 pound bear, who had shocked students after breaking into halls of residence and taking a stroll through the car park.
The bear had spent around two hours up the tree before wildlife officials decided to target it with a tranquilliser dart.
In scenes reminiscent of something from 100 acre wood, the male then tumbled from the branches, the comical moment caught on film.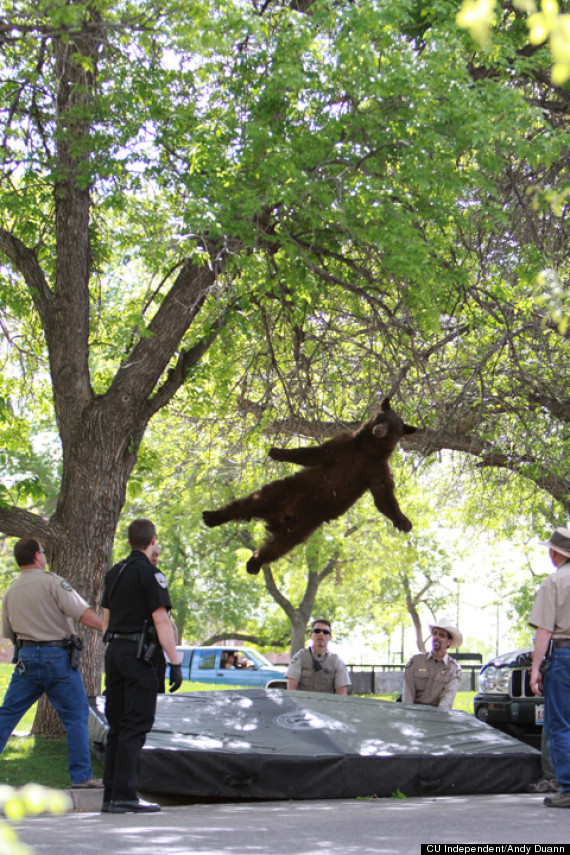 Losing his bearings? The bear flies through the air
As stunned students and staff gathered to catch a glimpse, the bear landed on its back, apparently unharmed by the four metre fall.
Bears come out of hibernation in the middle of March, and late snoozers can sometimes be seen wandering into built up areas to find food.
Although black bears are not known for being as aggressive as grizzly bears, wildlife officials removed the bear as they can often destroy cars, causing havoc in their search for food.
This bear was carried in a cage to some nearby woodland, before being tagged and released. Many students expressed how happy they were to see such a majestic animal up close. Take a look at some more shots of the bear below.