A shining 30ft tall sculpture of the word RUN, inspired by the music of rock stars, is now one of the largest new artworks in the Olympic Park.
Made of steel and reflective glass, RUN is set to shine in the day and glow at night from the plaza of the Copper Box handball arena.
Songs including Bruce Springsteen's Born To Run, Neil Young's Running Dry and The Velvet Underground's Run Run Run formed the foundations of artist Monica Bonvicini's work.
The 26 new art pieces which have been completed at the venue in Stratford, east London, are the first cultural projects which have been built in to an Olympic Park from the outset, according to the Olympic Delivery Authority (ODA).
Ms Bonvicini, who was awarded the commission in summer 2010, said: "RUN is already blending in perfectly in the landscape, avoiding monumentality through the mirroring of the surroundings.
"At night the psychedelic light reflections will illuminate the work in an exciting, elegant and witty way, reflecting the great liveliness of London."
RUN has been created to produce a mirrored affect which changes depending on the light and time of the day.
During daylight, the letters will act as a mirror for visitors and their surroundings.
At night they are set to become more transparent and glow with 300 metres of LED lighting that bounces off internal curved mirrors.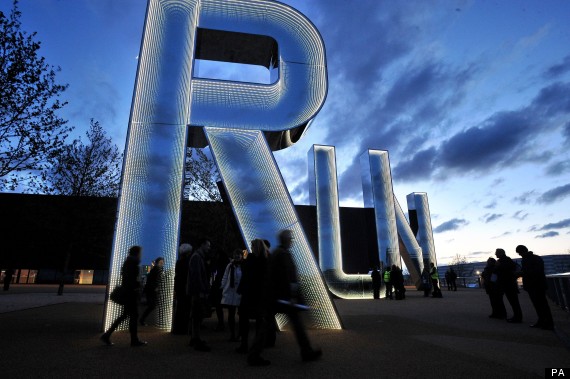 Visitors should be able to spot different types of art in bridges, underpasses, security fences, planting schemes and large-scale facades, the ODA note.
Artist-led community projects have also been run in the neighbouring host boroughs of Greenwich, Hackney, Newham, Waltham Forest and Tower Hamlets.
Dennis Hone, chief executive of the ODA which is in charge of the Olympic build, said: "Art has been built into the Olympic Park from the start as we set out to deliver a truly new and inspiring place within London.
"By working creatively and closely with both up-and-coming and established artists we have created a series of exciting focal points across the site.
"This will enhance the Olympic Park for the people who live, work and visit there for years to come."
RUN is one of the two largest arts commissions alongside Ackroyd & Harvey's entrance marker trees - a major public artwork which comprises a collection of ten semi-mature trees, each with a bespoke metal ring weighing up to half-a-tonne suspended in the crown and engraved with words specific to the history of each site.
Three trees and rings have already been installed and a further seven will be installed in legacy, marking all of the main entrances to the Olympic Park.