Former Manchester United goalkeeper Edwin van der Sar has warned his old club of Carlos Tevez's impact ahead of their Barclays Premier League title showdown with Manchester City tonight.
City host United for what is the fourth derby of the season lying three points behind their rivals, but a win at Eastlands this evening will see them leapfrog the Reds by virtue of their superior goal difference.
Tevez, who played with Van der Sar for two seasons at United, gained a reputation at Old Trafford for scoring in big games. And the former Reds goalkeeper is not surprised at how important the Argentine has become for the Citizens since he ended his five-month exile in Argentina.
"Carlos was always more of a game-player than a trainer," Van der Sar told HuffPost UK Sport. "In games, you could never question him to be fair. Some players, they train harder because they need to train hard to be at their best during games, whereas certain players are more relaxed during training and focused more on the games."
"He was important that first season but then [Dimitar] Berbatov started playing and he became more of an impact player. He would come off the bench in the last 20 minutes when we were struggling, and he scored some important goals in the last few minutes.
"I remember against Blackburn and he scored the winner [it was actually the equaliser, although the goal's importance was retrospectively treated like a winner]. So he likes to be the influential player and he wasn't being that, so he thought he would get that at City."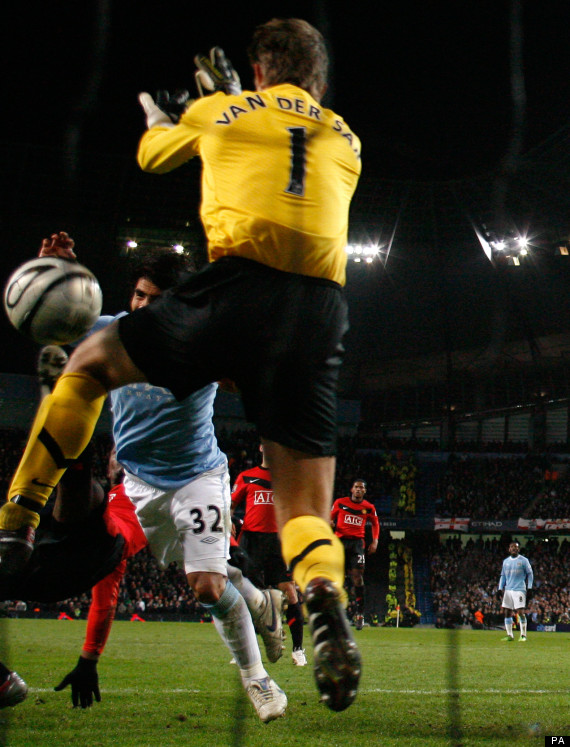 Tevez scores against Van der Sar in the 2010 League Cup semi-final
Regarding Tevez going on strike after he refused to warm-up during City's 2-0 Champions League loss to Bayern Munich in September, Van der Sar shrugged when recalling the player's conduct.
"That's the type of guy that he is," he opined.
"When he feels an injustice is done, he will react very emotionally. You can appreciate that when a player does that on the pitch, but off the pitch you have to focus on being a team player."
A veteran of 14 derbies during his six campaigns at the Theatre of Dreams, Van der Sar, 41, feels Sir Alex Ferguson's side only have themselves to blame for their recent lapses.
Less than three weeks ago, City trailed their neighbours by eight points but three wins in a row for Roberto Mancini's side against West Brom, Norwich and Wolves, coinciding with United taking just four points from nine against Wigan, Aston Villa and Everton, has offered them the chance to return to the Premier League summit.
"It would be much more relaxed [for United] if they had beaten Everton last week," the Dutchman said.
"(But) it's still in United's hands. City would rather be in their situation, but United have left the door open because of the result against Everton. United have let them back in and hopefully it's not too late to close the door on Monday."
Van der Sar, four times a Premier League champion during his six seasons with United, played in 14 derbies, winning seven, drawing two and losing five. Asked to recall his best and worst derby moments, he plumps for two unsurprising choices.
"I made an important save in 2007 from a Darius Vassell penalty, five minutes before time. They were not at the same level as we were, they were just an average team, but playing in derbies is always challenging. That meant we got three points and beat Chelsea to the title, after they had won it the two years before. I made a reasonably good save the previous season from Andy Cole in 2005 too.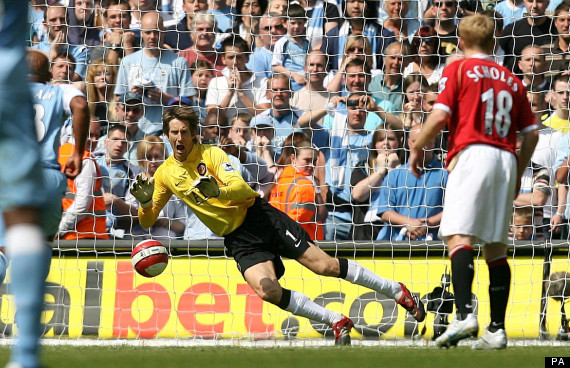 Best derby moment: Van der Sar denies Vassell
"Disappointments? The one year we lost both derbies [2007/08] but still won the league and Champions League. But especially losing the remembrance match when we played in the old kit, that was a strange atmosphere in the stadium. There was the remembrance service in the week and then we lost that game on the Sunday, it was a real shame."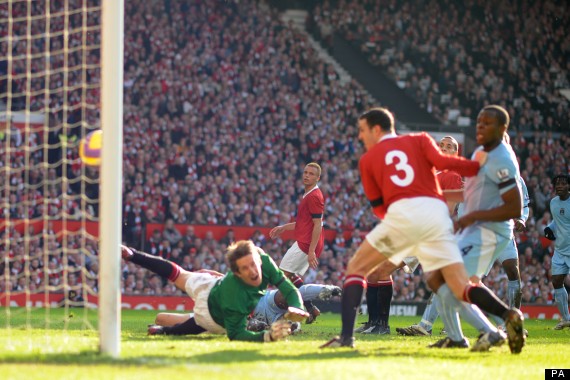 Worst: United lose four days after the 50th anniversary of the Munich disaster
Bought for a bargain £2m from Fulham in June 2005, Van der Sar was the first signing Ferguson made under the Glazer family's ownership of United, the Scot having since acknowledged he did not react quickly to sign him as Schmeichel's successor in 1999.
Replacing the ex-Holland international is arguably as unenviable a challenge as replacing United's great goalkeeper of the 1990s, Peter Schmeichel. Mark Bosnich struggled as Schmeichel's successor and Van der Sar's replacement, David de Gea, has endured an ambivalent debut campaign.
Anders Linedgaard too was signed in January last year to offer the 21-year-old Spaniard competition, leading to Ferguson sporadically starting the Dane in league games despite De Gea being available. So did that tinkering affect De Gea's form?
"No, I don't think so," Van der Sar concludes. "I think David played most of the Premier League games. It even happened with me also, when sometimes on a Friday when we're doing our goalkeeping session and then suddenly you see him [Ferguson] coming towards you and you think, 'Oh s**t, this is going to be a day off.' And he'll say, 'How do you feel?' 'Ah, I feel fine.' 'Well I was thinking of resting you tomorrow so you're focused for Tuesday because Tuesday is a very important game.'
"You can't play all the games, it's a team game so you have to rely also on the other players, when something might happen, maybe an injury, and somebody doesn't have any rhythm of playing a game or no experience so it's quite normal that another goalkeeper plays Carling Cup, FA Cup or even Premier League games."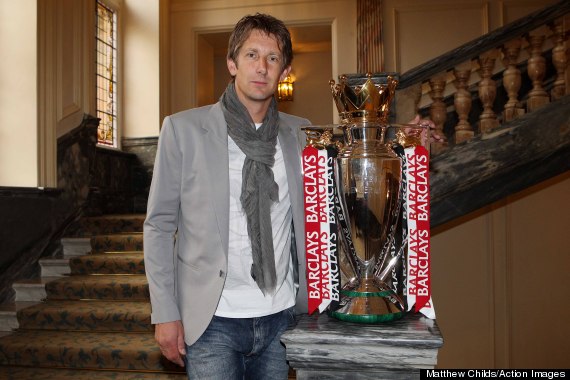 For exclusive Barclays Premier League content and to hear more from Manchester United legend Edwin Van der Sar, visit YouTube.com/BarclaysFootballTV or Facebook.com/BarclaysFootball