Fresh sightings of violent convicted criminal James Allen, suspected of killing two people in their own homes, have prompted police to widen the focus of a huge manhunt.
James Allen, 35, was last seen in Leeds yesterday afternoon, West Yorkshire Police said, but he was also spotted in the city in the early hours of the morning.
An urgent appeal to find Allen was issued by Cleveland Police and North Yorkshire Police following the murders of Julie Davison, 50, in Whitby, North Yorkshire, and 81-year-old Colin Dunford in Middlesbrough.
On Saturday West Yorkshire Police joined the manhunt after Allen was seen on CCTV footage walking along Harehills Lane at 4.41pm yesterday.
A spokesman said: "Investigations continue to be focused upon the Leeds area and officers are liaising closely with colleagues in Cleveland."
He added: "Mr Allen is considered dangerous and we would ask members of the public not to approach him but to contact us immediately."
Cleveland Police also confirmed another sighting of Allen in Leeds shortly before 3am on Friday.
A force spokeswoman said it was possible Allen was now in a different location but she urged anyone who saw him to call 999.
Inquiries were still being carried out in Middlesbrough and North Yorkshire, with more than 100 detectives working on the case.
Police have released new CCTV images of James Allen, the man suspected of killing two people in their own homes in Whitby and Middlesborough.
The pictures show 35-year-old James Allen in Scarborough during the last week.
Allen is the subject of a man huntfollowing the "brutal killings" of Julie Davison, 50, in Whitby, North Yorkshire, and 81-year-old Colin Dunford in Middlesbrough.
Speaking at a news conference in Middlesbrough this afternoon, temporary Detective Chief Superintendent Gordon Lang said the images showed Allen appeared to be growing his hair to change his appearance.
Mr Lang said: "The photographs will show James Allen throughout the course of the week, caught on camera and show signs of hair growing through at both sides of his head.
"He was described as bald but there's now clear signs of hair growing."
The images show Allen in a number of locations, including a sports shop, in Scarborough on Wednesday and Thursday.
Mr Lang confirmed Allen stayed in a bed and breakfast, thought to be the Allerton Croft Hotel, in the seaside town on Wednesday night. James Allen is growing his hair to disguise himself
He said the guest house had been treated as a crime scene.
Mr Lang said there were also unconfirmed sightings of Allen in the Harehills area of Leeds on Thursday evening and Friday and these were being followed up by West Yorkshire Police.
The detective said it was possible that someone was sheltering Allen and urged that person to contact police.
"This is not a time for loyalty. There can be no loyalty at a time like this. This is the time to help the police," he said.
"Now is the time to be public-spirited."
Mr Lang issued a further message to Allen to hand himself in. James Allen attempts to disguise his appearance with a hat
"Give yourself up. Give yourself up now. You need to be in police custody, you know you need to be in police custody, you know what you've done," he said.
"I think purely and simply by the tragic events that have unfolded, this is a man who cannot be at large, who needs to be arrested and that needs to happen as quickly as possible."
Mr Lang said Cleveland Police had received a good response to appeals, with hundreds of calls from members of the public.
A post-mortem examination on Mr Dunford, who was last seen alive at around 5pm last Sunday, showed he had suffered serious head injuries.
He was found dead at his terrace house in Leven Street, Middlesbrough, on Monday after he failed to appear at Samuelsons Working Man's Club, where he was a daily visitor.
Detectives said there was no sign of forced entry at the house.
Ms Davison, who lived alone, was found dead by her sister at her rented flat in Church Square on Wednesday. She had also suffered serious head injuries, police said.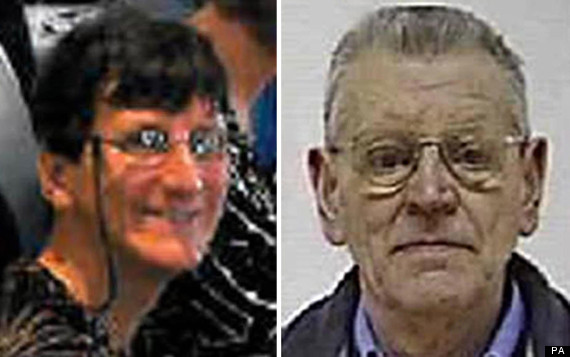 Murder victims Julie Davison and Colin Dunford
Yesterday, Mr Lang said Allen, originally from Blackpool, knew Mr Dunford when he lived next door to him in Leven Street about a year ago but it is not thought Allen knew Ms Davison.
He said robbery was a possible motive behind the attacks, but stressed he was keeping an open mind.
The senior detective said the suspect could have tricked his way into Ms Davison's home.
Mr Lang said it was feasible that Allen had cycled between Middlesbrough and Whitby - a distance of more than 30 miles (48km).
However, the detective said today they had received no reports of the black mountain bike from the Scarborough sightings and they were unsure what Allen's present mode of transport was.
Allen has previous convictions for violence and has served a custodial sentence.
Mr Lang confirmed that he had been jailed for eight years at Southampton Crown Court in 2003 for offences of burglary and wounding with intent.
The detective also said Allen was on court bail for an offence of violence.
He added that Allen had had contact with the probation services and was being investigated for other alleged offences, which he would not disclose.
Mr Lang warned residents to keep their homes secure and be careful when answering their doors.
He said: "Clearly this is a man who is a dangerous man, but we are putting absolutely everything into finding him, tracking him down and bringing him to justice.
"There's a massive police operation in place here. Over 100 detectives, two forces, not an inch between these two forces, absolutely working in partnership with one goal, and that is to find James Allen and arrest him."