It's been the wettest week yet this year for England and Wales, and with strong winds and heavy downpours predicted to lash an already sodden Britain, Saturday night partygoers are urged to wrap up warm.
Drought-afflicted areas are at particular risk for the possibility of flash floods, as up to 40mm of rain is forecasted to fall in places.
Soil left parched by prolonged dry weather is increasing the risk as heavy rain quickly runs off hard, compacted ground.
Localised flooding across parts of the South West, South East and Midlands, East of England and Wales is expected on Sunday as the wet weather moves in to stay.
Forecasters can see no sign of the rain letting up and supermarkets are reporting soaring sales of wellies and umbrellas in the face of the deluge.
Many of the areas at risk of floods are currently in a state of drought, which is gripping the South East, East Anglia, the Midlands, the South West and south and east Yorkshire after two unusually dry winters in a row.
Homes and business in Yorkshire were left bailing out flood water after the River Ouse rose to dangerous levels following the heavy rain. Despite the bad weather, pub owners in Yorkshire were determined to stay open for business
In its latest weekly drought briefing, the Environment Agency said all regions had now received above average rainfall for April, boosting river levels and providing relief for farmers, gardeners and wildlife in drought areas.
But groundwater levels remained low and the rain was not yet making a difference to the drought conditions, the agency warned.
Aisling Creevey, a forecaster with MeteoGroup, the weather division of the Press Association, said the worst weather would be on Sunday.
However even Saturday's forecast was looking grim. She said: "There will be spells of rain and drizzle in southern England and Wales throughout the day.
"By late afternoon it will start to get heavier and there will be winds of up to 40mph by the end of the night. Cornwall, the far south west of Wales and coastal areas of Lincolnshire and northern parts of East Anglia will be hit. They could rise to 50mph."
She said tomorrow would be a "blustery, wet, very unpleasant day," with wind gusts of up to 60mph.
"There is already a lot of waterlogged ground and there will be significant rain totals meaning that localised flooding is likely." Sales of wellies and umbrellas have rocketed
All of England and Wales have been issued a yellow "be aware" weather warning from the Met Office, as heavy rain is predicted to sweep across Britain. The West Midlands has an upgraded amber warning, with the weather service stating that "northeasterly winds may exceed 50 mph in some locations, bringing the risk of falling trees."
Nine flood warnings were in place on Saturday for the North East, with properties at risk from rising water levels in a number of rivers including the Ouse in York. Householders were urged to take action to protect their homes.
Another band of rain looks set to hit the country on Tuesday.
The latest downpours come at the end of a particularly wet week for England and Wales, with the South West receiving 166% of the average rainfall for April.
More than two dozen properties were flooded in St Helen Auckland, Co Durham, on Thursday, while there were localised floods in Devon and Cornwall earlier in the week.
A man and his 11-year-old son had to be rescued on Friday night after their car became stuck in flood water.
Two fire crews from the Devon and Somerset Fire and Rescue Service were called to the scene at Holcombe Rogus, Wellington, Somerset, at about 9.30pm.
Firefighters from Cullompton and Wellington winched the car to safety.
The rescue follows a similar incident on Thursday night at 9.41pm when firefighters were called to North Perrott, near Crewkerne, in Somerset where they found a woman and teenage boy hanging out of the windows in their car and grabbing on to the roof.
High winds tore through Rugby, Warwickshire on Thursday, blowing the roof from one home and damaging others in what residents described as a "mini tornado".
A motorist in Essex spoke of the moment she thought she "was going to die" after her car became trapped after a ford swelled with rain water.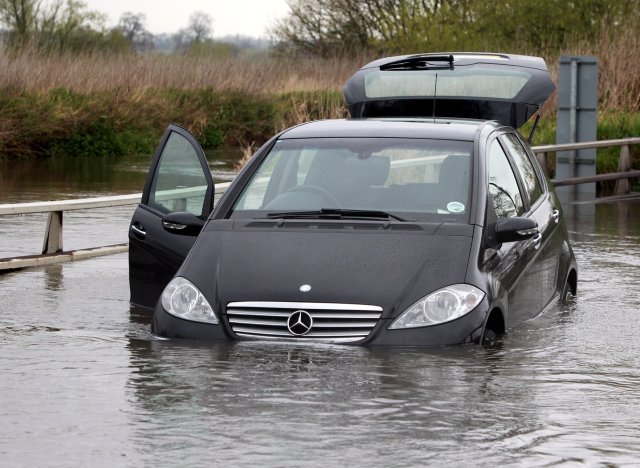 Fire and rescue crews had to rescue the woman and winch her car to safety
As a result of the rain, soil is much less dry and river levels are now normal at the majority of the sites monitored by the Environment Agency, with only the River Coln experiencing "exceptionally low" flows.
The rain is good for farmers and gardeners, while raised water levels and cool temperatures have eased the pressure on fish and wildlife in rivers, the Environment Agency said.
But the agency said most of the rain was being soaked up by dry soil, or running off and causing flooding. As the country moves from spring to summer most rainfall will evaporate in warmer temperatures or be taken up by plants as they grow.
The rain unlikely to help shift the hosepipe bans imposed by seven water companies across southern and eastern England, the Environment Agency suggested householders buy water butts this weekend to capture rainfall which can be used to water gardens if dry weather returns.
But a temporary respite in the wet weather has led to three flood warnings being lifted by the Environment Agency on the rivers in Devon and Dorset.
But with weather experts forecasting that Britain may have its coldest May for 100 years respite will only be temporary.
Forecasters have predicted bitter blasts across the country, with threats of thunderstorms and giant hailstones smashing windows in the north of Britain.
Temperatures could drop to -2C while the thunderstorms could cause localised flooding. Snow is also expected, says independent forecaster WeatherAction who said they "made the forecast public because of its importance."