The Voice judges Tom and Will.i.am each had to say goodbye to one of their performers on Sunday's first results show of the series... and the first evictees after the live shows were Sam Buttery and Sophie Griffin respectively.
Cuddly Sam held back tears after Tom chose to send him home. The judge had had to make the excruciating choice of expelling either Sam, or hippy duo Matt and Sueleen, after audiences voted to send Ruth Brown, Leanne Mitchell and Adam Isaac safely through.
Meanwhile, Will was forced to decide between Sophie Griffin and Joelle Moses. Jaz Ellington, Frances Wood and Tyler James were all through without a hitch. The American judge remarked ruefully, "I hate talent shows."
REVIEW: WATCH Ruth Brown Bring The House Down On Saturday's First Live Show
ALL The Latest From The Voice - Photos, Gossip And News
Sam said it felt like his heart had been ripped out, while the surviving duo said it was "a bit gutting" to be in the final two (or three?) after all the work they'd done this far.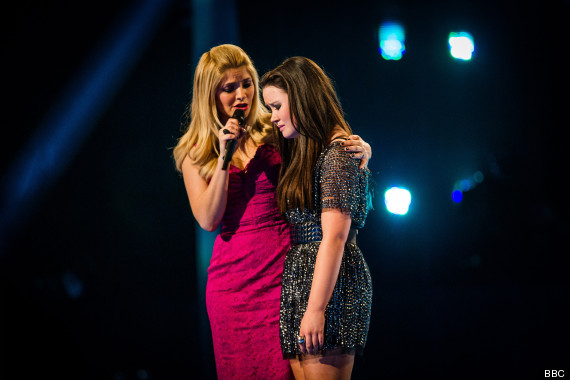 Sophie Griffin is comforted by Holly Willoughby after Will has to give her the heave-ho
All the latest from The Voice:
Here are this week's perfomers - who do you think you has what it takes to become The Voice?