Close your eyes, imagine the first scene of Chariots of Fire – the students running along the beach, waves flapping at the heels, little Aertex two-piece suits as befitting 1920's trendsetters, wind tossing in the long fringes of well-spoken but hormonal young men… are you humming the legendary Vangelis score yet? Just wondering.
You'll have to prepare your best percussion and electric piano impressions again, because Chariots of Fire is coming back to UK cinemas, on 13 July – yes, just in time for the London Olympics – "it seemed the perfect time," producer Hugh Hudson told Saturday's Times.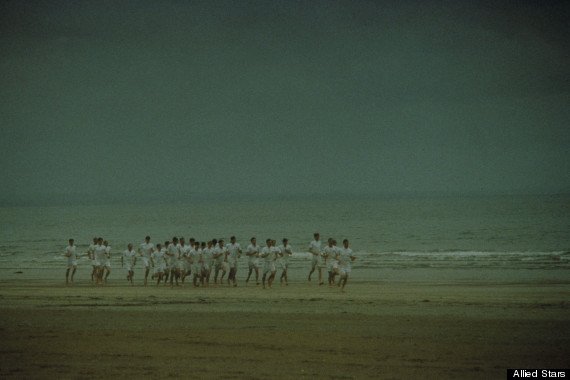 Hearing Vangelis' score in your head already? Thought so...
Frankly, for me, any time would have been equally acceptable. It's been over 30 years since Chariots of Fire caused a storm at the 1981 Oscars, taking home four of the main gongs, and causing screenwriter/Z-Cars alumnus Colin Welland to yell, "The British are coming." (Which they did, well, for one more year, with Gandhi).
But there are so many unforgettable images – Jewish outsider Harold Abrahams (Ben Cross) taking on the famous Oxford quad run as a metaphor for his subtle exclusion from society of that era; Scottish Christian Eric Liddell (the much-missed Ian Charleson) struggling between his obedience to God, and his love of running, until he somehow manages to reconcile the two:
"I believe God made me for a purpose, but he also made me fast. And when I run I feel His pleasure." Timeless.
And finally, these two travelling their separate paths to the 1924 Paris Olympics (by glorious steamer of course, no Eurotunnel for them), where their internecine rivalry preceded and matched that of Ovett-Coe half a century later.
And, if that wasn't enough, there's the unforgettable sight of Lord Andrew Lindsay (a young, floppy-haired Nigel Havers) practising the hurdles and getting to the end, with barely a drop of champagne spilled from the glass perched on each bar. So decadent, and who knows? It could be just what our modern-day Olympians need to get them across the line.
Chariots of Fire is in selected UK cinemas from 13 July. Trailer above – start humming – and here are some pics…