If you've had the TV on today you've probably seen footage of a familiar looking hound and his toy rabbit.
Harvey the dog, who was the star of 2010's ad of the year for ITV, made his first appearance in a heart-warming clip which saw him ironing, cooking, mowing the lawn and taking the kids to school in order to persuade a couple to adopt him from a dogs' home.
The ad was so successful it was watched over two million times online, saw Harvey amass 16,000 Facebook friends and resulted in him being named celebrity dog of the year by the Dogs Trust.
Today sees Harvey take to the stage once more in an emotional clip which sees him attempt to change his owner's mind about throwing away his best friend and constant companion, a stuffed toy named Rabbit.
It opens at the moment that Harvey's owner is about to put the well-worn, slobber-covered Rabbit in the bin while Harvey's back is turned.
Scroll down for Harvey's first appearance in 2010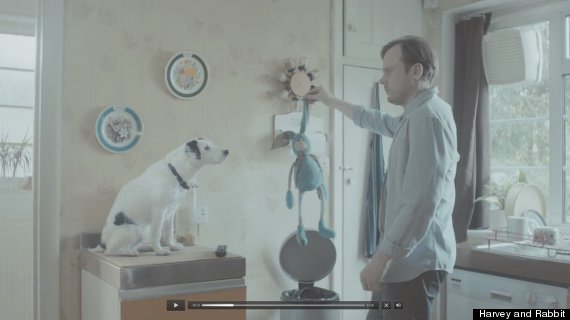 Step away from the bin: Harvey appears just as his friend Rabbit hovers over the bin
SEE ALSO: Puppy Has A Bad Dream (VIDEO)
The hound suddenly appears and plays a segment telling the story of how he and Rabbit became friends and the scrapes they've got into together over the years.
The ad is by Thinkbox, a marketing body for commercial TV in the UK which aims to help advertisers get the best out of today's TV.
Andrew MacGillivray, Thinkbox's marketing director: "It's great to bring Harvey back to TV and to discover what he had packed in his suitcase when he left the dogs home in his last ad.
"The first Harvey ad is a lot to live up to as it really struck a chord with people, but we hope this one will be just as well received and will bring to life the power of TV advertising."
The ad is shot by advertising agency The Red Brick Road.