Octomom Nadya Suleman has reportedly signed up to make a masturbation video, TMZ exclusively revealed today.
The video will be shot by an online adult entertainment company this summer. The single mother of 14, who is openly struggling to finance her family, had vowed in the past never to do porn.
But according to TMZ, "she doesn't consider a masturbation video porn, because it's a solo mission."
In March, Suleman reportedly made $10,000 for posing topless. Flaunting a flat stomach and a 34DD bust, Nadya told Closer Magazine she still gets plenty of admiration from the opposite sex, despite admitting she has stretch marks and "slightly saggy" assets.
Suleman claims she's been celibate for 13 years – her children were all conceived through a sperm donor – and revealed she has no interest in dating, hates male attention and has to work hard at "disguising her beauty" to put off men.
"I get way too much male attention, but I won't date until the octuplets are 18 – I live for them now," she insisted.
"I know a lot of women like male attention, but I'll go out with no make-up on and wear tracksuits, a wig and even a fake pregnancy stomach to put them off."
And the 5ft 7 mother – who insists the only cosmetic surgery she's had is a breast reduction when she was 17, which took her from a DD-cup to a C-cup – boasts she doesn't have to do much to retain her enviable figure.
Scroll down for more pictures of Nadya Suleman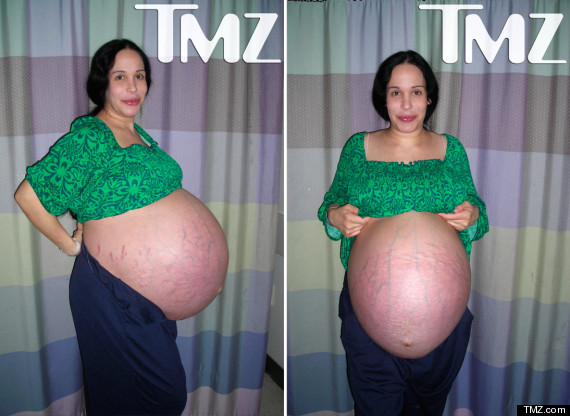 Nadya put on over nine stone during her pregnancy, as these pictures courtesy of TMZ reveal
"I just pinged back into shape like a rubber band after the kids – I don't know how I did it," she shrugs.
"I eat like a horse, don't count calories and have never owned a set of scales. I gained an entire human when I was pregnant with the octuplets – going from 10st to over 19st – but, two months later, I was a size 8 again. Now, I never weigh myself."
Suleman, 36, who lives with her brood in La Habra, California, already had six children – Elijah, now 10, Amerah, nine, Joshua, eight, Aiden, six, and twins Caleb and Calyssa, five, who were all born through IVF using a sperm donor – when she decided to have more embryos implanted in 2008, using the same donor.
SEE ALSO:
Despite being shocked when she discovered she was carrying octuplets, as she insists she didn't realise so many embryos had been implanted, Suleman decided to go ahead with the pregnancy.
"I was grabbing my head and thinking: 'Oh God, please God don't let there be eight' – but there was no way I could have aborted them, that would have been murder," she explained.
In 2009, she gave birth to six boys and two girls – Noah, Jonah, Jeremiah, Isiah, Josiah, McCai, Maliah and Nariah, who turned three in January – making them the longest-surviving set of octuplets in American history.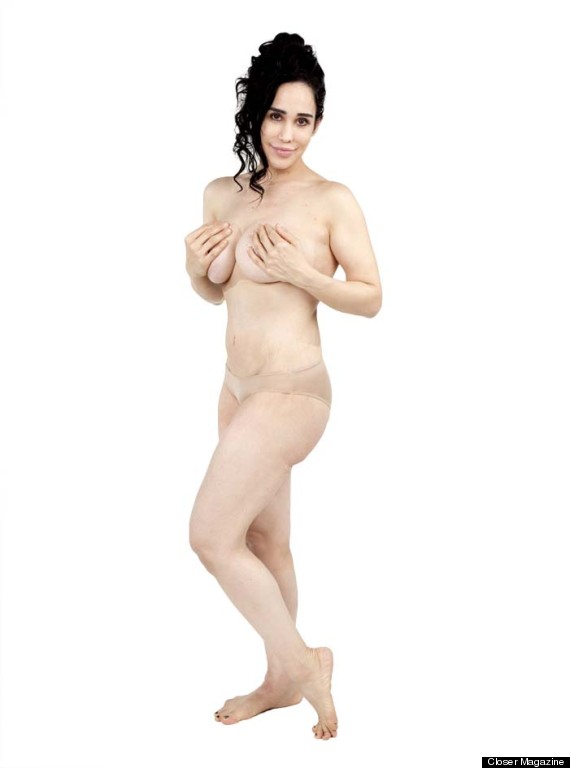 The mother-of-14 says she's proud of her stretch marks
"I didn't really mind how I looked when I was pregnant. It happened gradually, so I got used to it. It's all part of being a mum, it's natural," she says.
"I got stretch marks on my stomach and a lot of veins came out. But it didn't matter to me. Even now, I'm proud of my stretch marks, although they've faded.
"My breasts had already grown back to a DD after the other kids, but they only sagged a bit with the octuplets and I breastfed them all – I don't know how my body did it!"
Suleman also revealed she has only ever slept with two men.
"The first was when I was 20 – we stayed in touch and he's been my sperm donor, but we don't talk now. The second was when I was 21. He was my boyfriend for five years. We tried for kids, but couldn't conceive."
She adds: "I wouldn't rule out a relationship in the future. But now, when men look at me, I look away and they know not to approach me. I know I'm beautiful – I don't need a man to tell me that."
Meanwhile, Suleman maintains she's coping perfectly well with her brood alone. Claiming she doesn't take state handouts and relies solely on funds from publicity interviews and photo shoots – although she's eight months in arrears on her mortgage and facing eviction from her four-bed home – she completely denies previous interviews in which she was quoted as "hating" babies, describing her older kids as "animals" and regretting her decision to have so many.
"I love looking after them, they're the least of my stresses. I'm such a good mother," she boasted. "I'm so loving and my kids are so happy. There's never been a time I've regretted having so many."