Tory MP Therese Coffey is currently getting a bit of flack on Twitter, because she was among a minority of MPs on the Commons Culture, Media and Sport Committee who objected to the claim in their report that Rupert Murdoch was unfit to run News Corporation.
Here's a sample of the kinds of tweets being directed at her.
I meet Coffey at Westminster the afternoon after the explosive report was published. She says she's "not worried about the Twitterati, frankly you've got to do what you think is right".
But because she and other Tories were opposed to some of the key findings of the DCMS report published on Tuesday, she has been accused of being "a Murdoch stooge and all that sort of stuff".
Only anoraks will actually look through the minutes of the report at the very back, but they show that Coffey and fellow Tory Louise Mensch consistently voted against many of the tenets of the report.
It is fair to say that if they'd had their way, the report would have been shorter and more concise. And crucially it wouldn't have had the criticism of Rupert Murdoch.
For Coffey the last-minute arguments among the committee members betrayed a sense that the report would only focus on whether parliament was misled, and thanks to Labour MPs took on a life of its own that wasn't backed up by evidence.
"It was clear there were things going through, regardless of the discussions we'd had throughout the report. And our side [the Tory MPs] certainly talked about some of these things in advance, I'm not going to deny that.
"But we didn't vote as a bloc. On some things we did because we'd kind of agreed in the middle of the inquiry that we wouldn't start going off into all these different areas.
"It's a shame, I think it does dilute the impact of the report, but we've got to get back focussed, as we will do in the new session, when we table our motion about certain individuals being held in contempt of parliament, and the House has to make that decision."
One of the amendments - which ended up in the report and which described James Murdoch's ignorance of the scale of phone hacking at News of the World as "astonishing" - was rejected by Coffey alone. How did she feel being in a minority of one?
"The reason I insisted on a vote on this, it comes down to a view of whether you believe him or not, and the word "astonishing" is so open to interpretation, does it mean incredible? So I said I wasn't prepared to put my name to it. I don't personally think the Murdochs knew what was going on, but other colleagues on the committee believe they did have a fuller understanding."
Tell us: Did the Tories make a mistake in opposing motions attacking Rupert Murdoch?
Coffey reveals that even stronger amendments censuring the Murdochs had been suggested by the committee members, but hadn't been voted on. "Certainly one of the amendments that had been put forward earlier was far more controversial than what went through yesterday"
Was it a Tom Watson amendment?
"Well I'm not going to specify because as you know, these are private meetings. But certainly there had been some changes along the way. The voting record stands for itself. Some of those amendments we had seen before, some of them we saw for the first time on Friday night, when we had agreed a deadline of mid-day on Friday to through it."
I find it slightly odd that the two women on the committee - her and Mensch - voted as a little bloc of their own consistently throughout the report. Did they find it frustrating dealing with the boys?
"I think Louise felt very strongly on certain things, as do I, but I'm not tying to make a big thing about it because genuinely it was very frustrating yesterday," Coffey tells me.
"I've known Louise a long time, since we were at University. We're not best mates, but we were Tories in the late 1980s, and we have similar values I guess. We're both Catholic. I practice... she...well, I don't know how often she practices. We don't have each other's mind but we're both opinionated and forthright."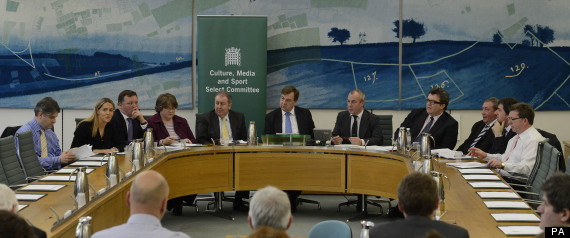 MPs on the DCMS Committee giving a sparky press conference on Tuesday
The next stage in the process - for it isn't over - is for the committee to agree on a motion which they can then put to the rest of the House of Commons. It could lead to further divisions on party lines.
What I hope is that we agree a motion within the committee," she says. "I think we can do that, it would be odd if it came out of the select committee, a motion on which again we had divided. If the Conservative MPs recommend against the motion from the committee, then it would be a bit weird. So I hope we can come together with some unity, and we just get it through. Which I think would be a way of kind of rescuing what happened in the last 48-hours."
Was committee chair John Whittingdale happy with proceedings today? "In some ways I think he's a little frustrated, there's a great disappointment. People who had not heard the evidence where voting in a certain way, clearly, and were just voting with the party line.
"I do try and take the positives out of this - out committee unanimously summoned the Murdochs, and we have brought things out into the open that otherwise would not have been. It's a shame, but there we go. Hopefully Parliament will re-unite on the motion.
Should Tom Watson remain on the committee? "I don't really mind, but it's fair to say, he only comes for the things that interest him. And he hasn't been to any of the sessions on gambling, one or two on libraries. And actually, we need the committee to function all the time in order to get good inquiries."
Coffey remains proud of her work on the committee, but really hopes its next inquiry is on something that actually affects people's jobs and the creative industry. "I want to get off the Murdochs."