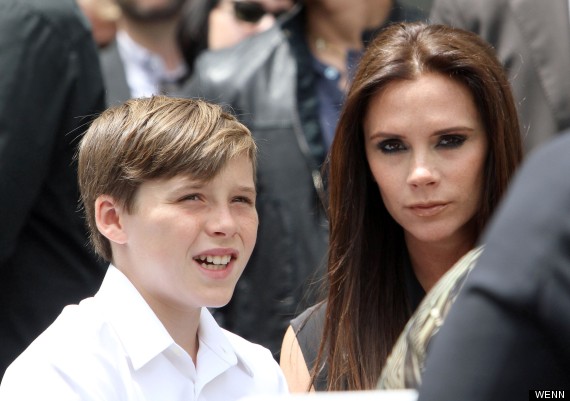 We've all left the house and forgotten our keys or our phone or our bag but a human being? Hmm, maybe not, but that's exactly what happened to Victoria Beckham recently when she was in such a rush to get her son to school that she left home without him.
In an interview with Vanity Fair, the busy mum of four admitted she was already half way down the road when she realised she'd left 13-year-old Brooklyn in the kitchen of their California home.
"I got up in the morning, and I knew that I had a whole morning full of conference calls," she said. "So I got up early with Harper, sorted Harper out, got all the kids their breakfast, got them ready for school, put Harper in the car seat, and said, 'Come on, kids, we have to get going or we're going to be late' - every morning I take Brooklyn, and David takes the little boys to school. We take it in turns because they go to two different schools.
"So I jump in my Range Rover, put the car seat in, put my iPod on... and I drive to school. And then I realise, I'd left Brooklyn in the kitchen. I was driving along, talking away, and all the sudden, I looked at the front seat, and I was like, 'S**t! S**t! I've forgot something!' I'd gotten down the road, and I literally had to turn around and drive back up the driveway. And David was standing there in the driveway with all three boys... And I felt like such an idiot because I was in such a rush. Harper was in the car, I was in the car, and we were on the way to school. But we did not have the child who needed to go to school." Victoria recently admitted that juggling a busy career in fashion as well as being a mum to four young children often left her feeling exhausted.
She told The Mirror: "Look, if people want to say I'm miserable then so be it. I'm really not. I have a lot on my plate. I'm not going to lie about it, I'm tired. I'm really tired but I'm also very happy with my life.
"I'm not getting much sleep at all. Harper's not sleeping that great, and I've been taking Skype business calls throughout the night, too, because of the collections. I'm up with the baby as all mums are, and I wouldn't have it any other way. There's not a team of people doing it for me."
Sounds like someone needs a new PA.
>IN PICS: CELEBS ON THE SCHOOL RUN