Bo Bruce stole this week's show on The Voice with her emotional rendition of Running Up That Hill.
Her coach Danny describes Bo as "the most unique voice of the competition", and it has been an emotional rehearsal week, with both of them thinking of her unwell mother, and both of them in tears.
He guided her to put her emotions into the music, which brought all four judges to their feet, and Danny applauding her ability to bare her soul.
There were tears last week, too, when Tom and Will said goodbye to Sam Buttery and Sophie Griffin, and this week it was up to Jessie and Danny to watch their acts tussle for a position in their final four - results tomorrow. Some highlights below...
Team Jessie
Toni Warne had spoken of how chuffed she was to get this far on The Voice, with her first rebith of confidence since her hair loss through alopecia when she was 21.
There was no sign of nerves as she belted out Tina Turner's Proud Mary, and she's got a lot of audience support behind her. And Will was impressed, saying "straight out of the gate, you were… zoom," which, I think, is praise. I'm just not sure about thanking the band at this early stage of the competition.
ALL The Latest Results, Pictures, News And Gossip From The Voice
Ruth-Anne St Luce had admitted her audition song got a bit out of control, and she failed to hit some of the notes again this week in Promise This – a shame because her voice rains all over the original. The judges seemed to be generally forgiving of her random notes, with lots of different words of advice as to how to get back on tune.
Vince Kidd took Elvis's Always On My Mind and made it… a generic nightclub crooner's. The boy can hold a note, mind you, has a huge range and gets extra points for producing it himself to boot. Only reservation is him catching which camera is on him, and following it round with his eyes – all a bit Human League on Top of the Pops, circa 1982.
Cassius Henry – It's a brave man who takes on Coldplay on his own, but Cassius took a big risk with Paradise, and it brought all four judges to their feet. Will tweeted that he was "Tupac with singing capability".
Becky Hill was having problems focusing and concentrating in rehearsals, but her husky tones found a home on stage, with Good Luck by Basement Jaxx, and the judges were impressed. "I love this girl's spirit, said Sir Tom, who called her a modern Janis Joplin (obviously he hasn't yet seen THIS!) And she was "brave" according to Will (another one!)
The Voice: Will.i.am Tells HuffPostUK Why It's Good To Tweet, Especially When You're On Live TV
Team Danny
Max Milner was on stage Freefallin' with only his guitar for company. His coach had said "Max didn't have to do anything but be himself", and so it proved, with an almost pitch-perfect rendition of the Tom Petty classic (NOT John Mayer).
Hannah Berney has had a big week, singing for Her Majesty and now in the studio with Danny. Danny reckons there are record studios looking for people like this – looks great, can hold a note, what's not to love? Will took note of the unconfident "switch-up" from jazz to Timberlake, and Jessie added there was too much going on with choreography, costumes and general grinding, but she Hannah herself proud with a soaring Cry Me A River, and Danny got to make a completely spontaneous gag about rock royalty. Good times.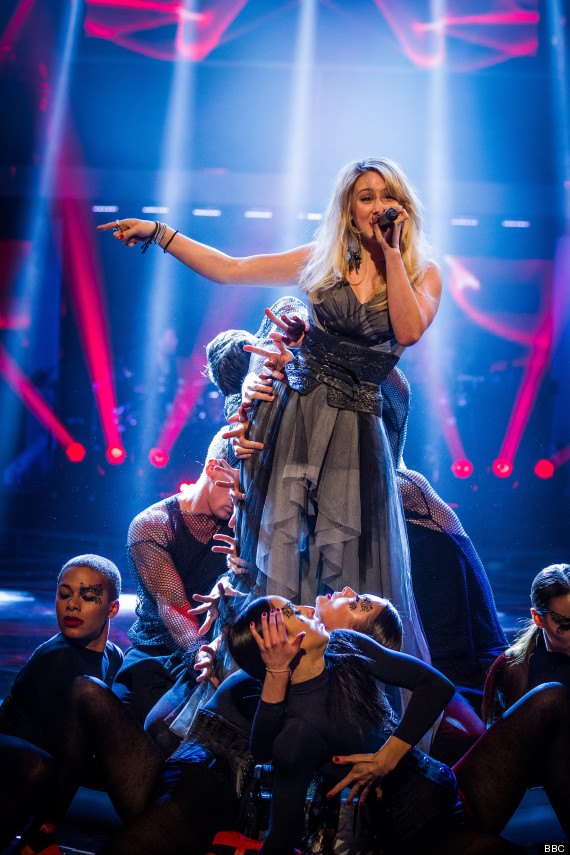 Hannah's performance divided the judges
Note - Hannah gets extra points for causing the first proper fisticuffs of the show between Jessie and Danny...
Jessie: "There was too much going on"
Danny: "What could she have done better?"
Jessie: "I'm here to give my opinion, it's a free world"
Okaaaayyyy....
Sir Tom was more diplomatic, simply saying it was "a hell of a voice" (pausing to ask if he could say 'hell' - sweet!) and saying he was so mesmerised he didn't even notice the dancers. Should get a job at the UN.
Aleks Josh – only 17, all very self-effacing and appealing in rehearsals - cut a distinctive tone with his Dream a Little Dream of Me, a gentle antidote to many of the evening's other offerings, and Holly described him "flirting with the whole nation" through his tune. He's no Buble… yet, but Danny said he didn't think Buble was this good at 17. Big words.
David Julien took a mighty risk with the soaring Sweet Disposition by Temper Trap, but pulled it off and some. It reminded me of X Factor winner Matt Cardle pulling it out of the hat with his Bruno Mars cover in 2010 (yes, I'm sad), and brought all four judges, justifiably, to their feet. One thing - why the umbrellas? Danny sort of explained it, but…
This week's contestants in action - which one of them do you think is The Voice?