Tributes have poured in for a teenage girl who was killed in a campsite tragedy thought to have been caused by a disposable barbecue.
Devastated friends set up a Facebook page dedicated to the schoolgirl, named locally as Hannah Thomas-Jones, who was pronounced dead at a Shropshire campsite after suffering a cardiac arrest at around 10am on Sunday.
Her parents and younger brother were all taken to hospital with suspected carbon monoxide poisoning.
Gillian Bremner, head teacher at Wilmslow High School in Cheshire, where Hannah was a pupil, said the school would release a statement tomorrow morning after a staff meeting when teachers and pupils return from the Bank Holiday break.
The family of four were discovered unconscious in their tent at the Baron at Bucknell campsite. The owners of the site said a disposable barbecue, which was used on Saturday night, was found in the porch of the tent.
Hannah, believed to be 14, was pronounced dead at the scene, despite efforts by a doctor staying on the site and paramedics to revive her.
Her teenage brother and their parents were taken to the Royal Shrewsbury Hospital, where they remained on Monday. West Mercia Police said the boy was stable but "unwell" and the parents were comfortable.
More than 300 people have "liked" a Facebook page set up in remembrance of Hannah, and scores of people have posted messages of condolence.
Francesca McKendrick wrote: "You will be missed so much, you were such a nice girl inside and out and no-one, especially you, deserves to die this young."
Chloe Hay posted: "Everything sucks without you, you were the highlight of my life."
Another friend said: "This beautiful girl didn't deserve to pass away but she will always be in our hearts no matter what!"
A photograph uploaded to the site shows Hannah, described as "smiley" and "amazing", grinning broadly at the camera with her arms outstretched.
Another picture shows the teenager with her arms around two female friends.
West Mercia Police said the death was being treated as unexplained but not suspicious.
Detective Inspector Gavin Kinrade said: "Although our work at the scene concluded yesterday afternoon, we will continue to work with the Shropshire Fire and Rescue Service to investigate this incident.
"We are treating the girl's death as unexplained, but there do not appear to be any suspicious circumstances. It is therefore unlikely we will have any longer-term involvement with this incident."
Phil and Debra Wright, who own the Baron at Bucknell pub and its adjacent campsite, said the family was part of a larger group made up of the mother's two sisters and their respective partners and children, staying in a number of tents on the site.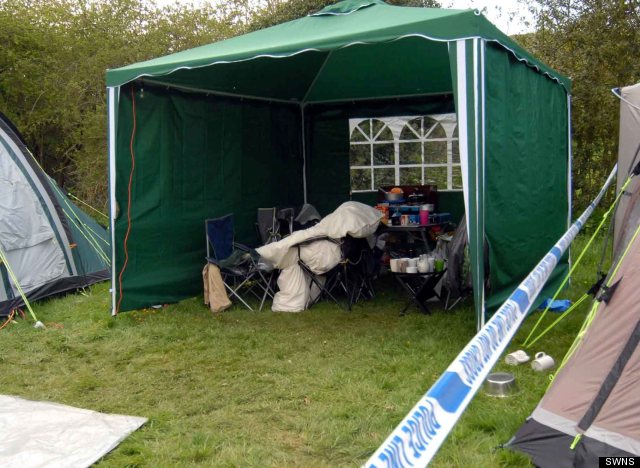 The family had apparently left a disposable barbecue in the porch of their tent
In a brief statement released through the hospital, the extended family said the incident had "devastated" them and requested privacy to deal with the tragedy.
Mr Wright said the group had arrived at the site on Saturday but relatives had become concerned when nobody in the family's tent awoke on Sunday morning.
He said: "They had gone into the tent and found them all unconscious. One of the sisters came and said, 'We need an ambulance urgently'.
"There was a disposable barbecue which they had used the night before in the porch of the tent.
"The emergency services were on the scene within five minutes. They worked on the girl for some time but they couldn't save her.
"It has been devastating. It is really tragic. Nobody has done anything wrong, they have just not realised the dangers of disposable barbecues.
"You don't realise that they are giving off fumes for hours and hours after you have used them."
Mr Wright said the family were planning to stay for the duration of the Bank Holiday weekend.
His wife sobbed as she described how the couple had called local paramedics and a nurse who lives nearby when the alarm was first raised at around 9.45am.
She said: "It was absolutely awful."
In brief statement released by the Royal Shrewsbury Hospital on their behalf, the extended family said: "Our priority as a family is to ensure that the three people in hospital get well and are fully recovered.
"We are devastated by this tragic accident and will release a full statement at a later date.
"We would ask that you respect our privacy at this time."