Blackburn Rovers' season met with a fowl ending as they chickened out of staying up and were relegated from the Premier League.
And the actual chicken who invaded the pitch showed more gumption than any of their forwards, as it strode around Wigan's penalty area.
Unsurprisingly, it was Yakubu who nabbed the feathered intruder before handing him over to a steward. No doubt with instructions to cook him ahead of a full-time dinner. Feed the Yak indeed.
Introduced in protest at the club's chicken meat processors Venky's, the chickens have come home to roost now Rovers will be playing Championship football.
Typically, several Ewood chicken accounts were started up on Twitter looking to get verified, or very fried (apologies to originator Henry Winter).
So in tribute to the latest animal arrival onto a sport's pitch, here are some other animalistic cameos:
QPR SQUIRREL
There was nothing secretive about the squirrel's presence at Loftus Road, and the furry rodent also made an impression. Referee Kevin Friend opted out of killjoy tactics when QPR faced Everton earlier this year by not halting play to allow the creature to scurry back to other green surroundings, just as the game's biggest flashpoint was about to occur. Adel Taarabt, in tandem with the squirrel's decoy movement, hit the post only for the ball to fall to Bobby Zamora. Zamora played a square pass for Akos Buzsaky, with the goal, yet the Hungarian conspired to hit the post for one of the misses of the season and the game ended 1-1.
But credit to Rs fans' humour, despite two dropped points. "You should have passed to the squirrel" they advised Zamora, as if to stress the impact of an animal invader at the football.
THE OLD FIRM FOX
Celtic-Rangers affairs are always brimming with hate and testosterone to the soundtrack of crunching bones and Scottish and Irish hollering. But as Rangers led the November 1996 derby at Celtic Park, referee Hugh Dallas did stop proceedings when a fox started to run rings around players from both sides. Celtic's public relations manager Peter McLean, in Alan Partridge mode, later said: "We were very impressed with the pace of the fox. It still hasn't been caught. We don't know how it got in and how it escaped. We have even been given the brush-off by its agent." Ah ha!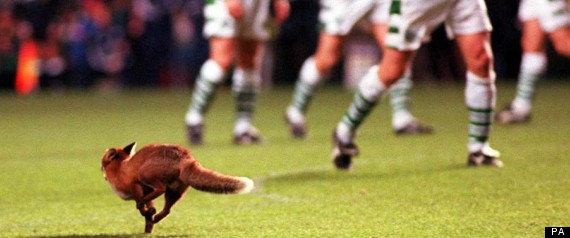 Paul Gascoigne and Pierre van Hooijdonk both missed penalties after the fox intervened
THE ANFIELD CAT
"A cat! A cat! A cat a cat a cat!" chanted the Kop after a sheepish feline hobbled along the Anfield turf. But unlike the majority of Kenny Dalglish's signings, it at least had its name chanted and appeared to cause Tottenham 'keeper Brad Friedel more distress than Andy Carroll.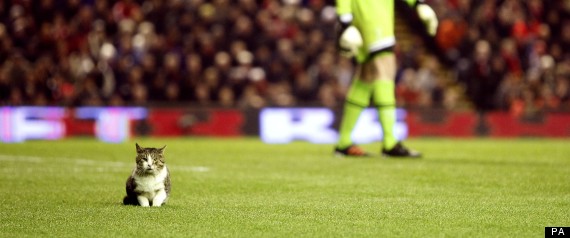 The Anfield Cat proved to be a suitable stand-in for Andy Carroll
THE OLD TRAFFORD MICE
Old Trafford housed a whole family of mice in February 2006. The players had spotted them and then soon after did the prying eyes of cameramen, which prompted The Sun to ask Sir Alex Ferguson about whether Manchester United's ground had a mice infestation.
"Mice?" Ferguson cackled. "I don't know about mice but we've got a bloody big problem with rats," he said, motioning at the press pack. "And you walked right into that one son."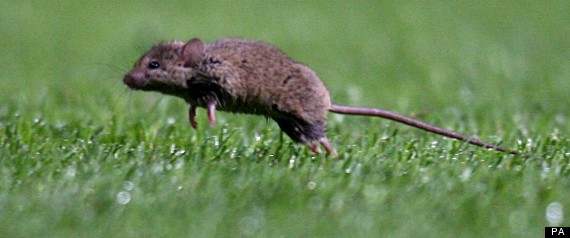 House of mouse
SNAKING ROUND THE BOUNDARY
With England playing for a draw at Savar against Bangladesh's A team during their 2003 tour, the crowd hoped for something to stir them away from Nasser Hussain's batting. However a cobra falling from a tree and working its way around the boundary probably wasn't the remedy. The panicked crowd duly scampered, apart from two brave attendants who clubbed the snake to death with a chair. Howzat for entertainment?
JUNIOR BARRANQUILLA'S OWL
As two Bangladeshi warriors showed, one way of dealing with pesky animals is via brutal force. Panama footballer Luis Moreno took such advice on board when, although the referee had actually stopped the game to clear an owl off the pitch, he ran up to the stricken bird and booted it. Junior fans began chanting "Murderer! Murderer! Murderer!" whilst Moreno left the ground under heavy police guard and later said sorry for hurting the owl, which lives in the stadium. The owl needn't have asked "Who?' had kicked him.
Off the laces
THE ENGLAND-ALGERIA BIRD
Literally getting a bird's eye view of England's abject goalless draw against Algeria at the 2010 World Cup was a juvenile speckled pigeon. An erudite observer, the feathered attendant perched himself on the Algeria net knowing that, as Rooney and Heskey laboured, there was no need to vacate its new home.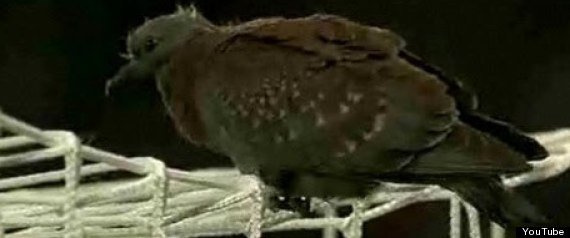 On his perch