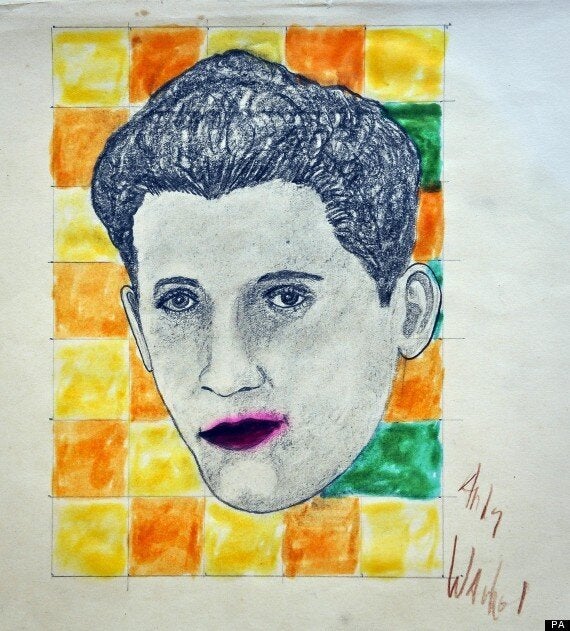 American singer Rudy Vallee, by Andy Warhol
A recently-discovered sketch by Andy Warhol is to go on public display for the first time.
The drawing, which is owned by Devon-based businessman Andy Fields, has been loaned to an art gallery in Bristol.
Mr Fields, 48, said he bought the work of art - which he said is worth an estimated £1.3 million - two years ago for just five US dollars (£3) at a garage sale in Las Vegas.
The illustration of American singer Rudy Vallee, which dates from the late 1930s, is thought to have been drawn by the artist when he was aged 10 or 11.
The pencil portrait, which was drawn on a now-tattered piece of paper, ended up in the possession of Edith Smith, Warhol's former carer.
It is full of the pop art motifs synonymous with Warhol, including his signature bright red lips and a typically pop art blocked background.
The Warhol sketch has gone on display at the Royal West of England Academy and is part of a collaboration with Avon and Somerset Police.
Mr Fields, from Tiverton, discovered the sketch inside a framed drawing of William Boyd as Hopalong Cassidy by Gertrude Stein - a Pittsburgh-born artist and writer who was painted by Warhol in later life.
He said: "I have had the picture for the past two years but it was only when the newspapers and the TV media frenzy started that it truly began to dawn on me that I had indeed found the Holy Grail of pictures - the earliest known example of Andy Warhol pop art.
"It still gives me shivers. I am delighted the piece is finally going on public display and that it will be shown for the first time in the South West.
"It is an honour for me to have such a great art gallery as the RWA looking after my picture.
"I am also thrilled that it will be included in Avon and Somerset Constabulary's Clean Slate exhibition.
"Having been done by Warhol as a young boy, it seems fitting for it to been shown in an environment that is celebrating the work of young people and just goes to show what you can go on to achieve.
"I am sure that Warhol would have been delighted to know that a sketch he most likely did whilst ill in bed would go on to act as inspiration for another generation of young people years after his death."
Academy director Trystan Hawkins said: "Warhol's work is known the world over, and represents a seismic shift in the history of art.
"With the benefit of hindsight, viewing this portrait allows us to see the beginnings of one of the greatest art movements.
"The opportunity to show Warhol's earliest work at the RWA is a world first, and we thank Andy Fields for giving us this chance to make it possible for the public to come and see a Warhol in Bristol."
Newly framed by Bristol-based company Niche Frames, the piece will be on display as part of the police's Clean Slate art competition exhibition.
The show will include 36 pieces by young people aged 13 to 19 from across the force area.
Chief Constable Colin Port said: "I am delighted that the Rudy Vallee portrait will make its public debut within our Clean Slate exhibition.
"Young people are our future and I am keen to seize any opportunity that helps the police continue to strengthen its relationship with them and allows them to promote and develop their talents.
"I hope the opportunity to be able to exhibit their work in a wonderful gallery such as the RWA alongside a piece by Andy Warhol will act as inspiration and encourage them to explore and celebrate their talent and potential.
"I am enormously grateful to both the RWA - for supporting our project - and to Andy Fields for allowing us to include the portrait in the exhibition."
The Clean Slate exhibition opens at The Royal West of England Academy's Stancomb-Wills Gallery on 3 July and runs until 28 July.
The announcement about the Rudy Vallee portrait comes hours after Warhol's Double Elvis sold for nearly £23 million at Sotheby's in New York.
The silver silkscreen image of Elvis Presley depicted as a cowboy fetched 37,042,500 dollars (£22.9m).
It had been expected to sell for 30-50 million dollars. The auction house said it was the first Double Elvis to appear on the market since 1995.
Warhol produced a series of 22 images of Elvis. Nine are in museum collections.