More than 20,000 off-duty police officers took to the streets on Thursday as they warned that Government cuts are putting public safety at risk.
The officers, from all 43 forces across England and Wales, donned black baseball caps with the words "Cuts are criminal" as they marched through central London to protest against the spending cuts and wide-ranging changes to their pay and pensions.
The officers, banned from striking under law, began marching from Millbank at around noon in a protest to show "the unprecedented attack on policing by this Government and the consequences that these cuts will have for public safety".
The stream of officers took one-and-a-half hours to pass by the Home Office, booing as they went and leaving a sign saying: "Policing by consent, established 1829, dismantled without consent 2012".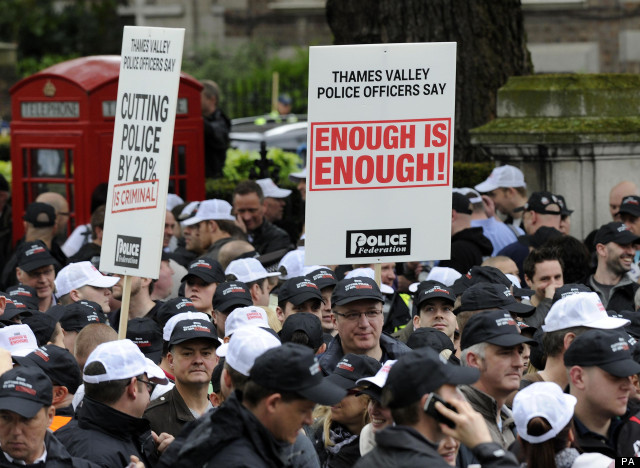 Police Federation chairman Paul McKeever told the assembled officers that: "We care very deeply about the communities that we serve. We have seen what happens when we have a Government that has given policing a very low priority.
"If you are cutting our jobs, then you are cutting the service we can deliver and the public's safety is at risk."
The officers were joined by
The last time police took to the streets, then-home secretary Jacqui Smith was blamed for a high-profile pay dispute in January 2008 and was ridiculed at the federation's conference.
Home Secretary Theresa May, who asked former rail regulator Tom Winsor to carry out the most wide-ranging review of police pay and conditions in 30 years, will address the officers at their annual conference in Bournemouth next week.
Policing Minister Nick Herbert wrote an open letter to all officers telling them he and the Home Secretary were "constantly impressed by the work you do for your communities" but insisting that "all organisations have to keep pace with the modern world.
"The Government wants to recognise the professionalism of officers, reduce bureaucracy and ensure officers are rewarded "for the excellent job you do", he wrote.
But difficult decisions on pay and pensions are needed and, as the service spends some £14 billion a year, it would not be right if officers were exempt from this, he added.
He insisted that officers will continue to earn more than other emergency services, continue to take overtime and continue to retire earlier than most people in the public sector.
Police pensions will also still be among the best available, he wrote.