A fresh strike by public sector workers in their bitter row with the Government over pensions was said to be solidly supported on Thursday as it emerged that prison officers are also staging protests.
Union leaders predicted that up to 400,000 workers, ranging from police officers and immigration staff to lecturers and job advisers, will be involved in a wave of demonstrations, fuelled by ministers making clear in Wednesday's Queen's Speech that they are pressing ahead with their controversial reforms.
Cabinet Office minister Francis Maude described the strike as "futile" and insisted that talks over pensions will not be reopened.
The Public and Commercial Services union (PCS) said early signs from picket lines showed solid support for the strike, the third major walkout by public sector employees in the past six months in protest at the pension reforms.
Recorded messages on HM Revenue and Customs phones were advising people to call back another day, and there were reports of government offices and jobcentres being closed, said the PCS.
A spokesman said there was "very strong" support among Border Agency staff at all ports and airports, while in London, 999 call staff and community support workers were out in big numbers.
"Investigators from the Serious Organised Crime Agency are also showing strong support because they are keen to show their solidarity for police colleagues marching today," said an official.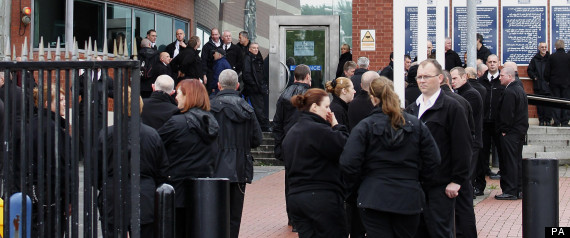 Up to 16,000 off-duty officers will don black caps representing each officer expected to be lost under the Government's budget cuts as they take to the streets today.
The officers, banned from striking under law, will march through central London in a protest against proposed changes to their pay and conditions.
Some 20,000 officers from all 43 forces across England and Wales are expected to take part in the first police march in the capital for more than four years, organisers said.
Prison officers across England, Wales and Scotland are holding protest meetings against Government plans to link their normal pension age to the state pension age.
Steve Gillan, general secretary of the Prison Officers Association, said: "The POA has submitted a case to Government to support our view that it is unrealistic for prison officers to be automatically linked to the state pension age, which will ultimately rise to 68 years of age.
"Unfortunately, it has fallen on deaf ears and prison officers have no other option but to protest to gain public attention."
POA chairman PJ McParlin said: "We are an essential uniformed service in a volatile operational workplace. A pension age of 68 is unacceptable to this trade union. We will protect our pensions. We have a right to retire from service not to die in service."
Maude said: "It is very disappointing that a handful of unions insist on carrying on with futile strike action which will benefit no one.
"We would urge these union leaders to reconsider their position. Pension talks will not be reopened and nothing further will be achieved through strike action."
Passengers arriving at Gatwick Airport were warned they may experience some delays at immigration.
An airport spokesman said: "Gatwick Airport has additional staff and volunteers on hand throughout the day in both terminals to assist Border Force colleagues and passengers.
"Our focus remains on minimising any potential disruption and ensuring our arriving passengers can get through the airport as quickly as possible."
A Border Force spokesman said: "We are using our trained pool of contingency staff to minimise disruption during today's industrial action.
"Thanks to our preparations, delays are being kept to a minimum and we will continue to deploy staff to manage peak arrivals during the day."
He added: "Overnight our staff in northern France have prevented 18 people attempting to evade our controls by hiding in lorries. They have been handed over to French authorities."
The PCS said business at the Welsh Assembly was hit after Labour and Plaid Cymru members pledged not to cross the picket lines, and National Museum for Wales sites were closed to the public.
The Rail Maritime and Transport union said work on Royal Fleet Auxiliary ships in port in Birkenhead and Portland had been halted by the strike.
Action by RMT members was said to be "rock solid", with pickets out in force.
Government sources said they did not agree with the 400,000 turnout figure the unions were claiming, and expected it would be half that number.