This magnificent image is a portrait of the Earth taken in one single shot.
At 121 megapixels, it is the highest resolution image of the planet ever and was taken by the geostationary Russian weather satellite the Electro-L.
The satellite, which was launched in January last year, takes a high resolution image of the full disk of the Earth every 30 minutes. The images are taken in four different wavelengths of light, on infrared and four visible.
In these images, the infrared appears orange and indicates vegetation.
Scroll down for more images and a time-lapse video of the images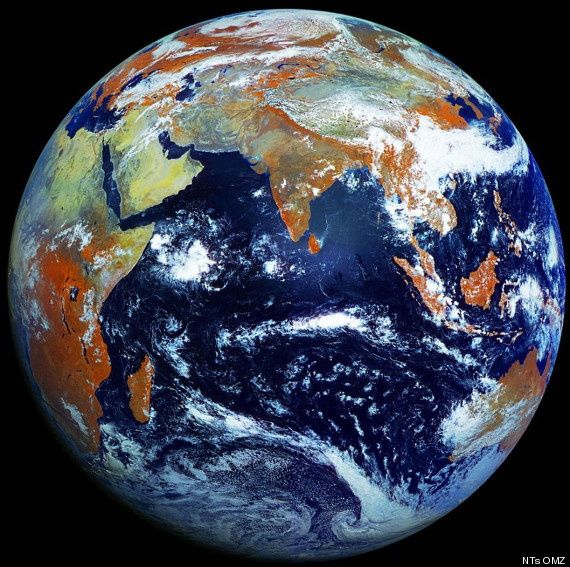 The images are downloaded to NTs OMZ, the Russian Earth Observation centre.
Portraits of planet Earth as provided by agencies such as Nasa are typically created by the stitching together of several images.
But as Nasa Earth Observatory scientist Robert Simmon points out to Gizmodo, the images are: "Not any better or worse than Nasa images, but they show different things."
SEE ALSO:
He added the Elektro-L is similar to their GOES satellites in that: "It's a geostationary weather satellite orbiting above the equator at ~54˚East.
"The US has two similar operational geostationary satellites over the east and west coasts, EUMETSAT has one over Europe and one over the Indian Ocean, Japan has one over the far western Pacific."