John Travolta finally embraces his balding head in the latest trailer for Savages .
In 2008 he hit headlines after shaving his head for his role in From Paris With Love, but since then his 'hairpiece' has been back on the scene.
The Pulp Fiction actor's latest role sees him play a Federal Agent named Dennis. The trailer for the upcoming crime-drama also shows some saucy scenes from Gossip Girl's Blake Lively as she takes on one of her grittiest roles yet.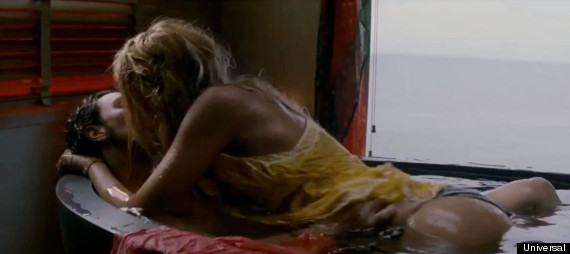 The film, directed by Oliver Stone, tells the story of marijuana growers Ben (Aaron Johnson) and Chon (Taylor Kitsch) as they face off against a Mexican drug cartel who kidnapped their shared girlfriend.
Based on the novel of the same name by Don Winslow, Savages will also star Uma Thurman, Salma Hayek, Benicio del Toro and Emile Hirsch.