A woman in her late 20s has been arrested on suspicion of murder after five children died in a house fire in Derby, police said today.
A sixth child, aged 13 has been transferred to a specialist burns unit at a Birmingham hospital.
Emergency services were called to the house in Victory Road in Allenton, Derby, just before 4am on Friday.
Six children were asleep in their beds when the blaze broke out, and the two adults present were downstairs at the time, police confirmed at a press conference.
The father of the children, named locally as Mick Philpott according to Sky News, has been praised by police, saying he made "valiant attempts" to rescue his children.
On 22 April, he wrote on his Facebook wall "These children are my life, much more than life itself" reports Sky News. A policeman guards the scene of the fire in Victory Road, Derby where five children died
Although not confirmed, a Mick Philpott living in Victory road became the centre of a media storm a number of years ago, for living with his 15 children, mistress and wife.
In a 2006 interview with The Telegraph he claimed he needed a new council house because he couldn't look after his "women or children in their three-bedroom, semi-detached house."
"We're very cramped. When everyone is here there's nowhere to sit. I end up sleeping in a tent in the garden."

"We obviously need a new place, but the council won't give us one. They always come up with the same excuses. They're just not good enough.

"I used to love my country, but I'm just sick of it now. I'm really ashamed of what's happening. I think this country is going down the pan.

"Some people call me a scrounger, but I'm not. I'm just a good father. I love my kids more than anyone and want to see them every weekend.

"What man wouldn't want two women?"
Mick Philpott appeared on the Jeremy Kyle show, under the title "Father to 15...Wife and girlfriend pregnant again!" (see below)
In 2007 Anne Widdecombe spent a week living with the then unemployed 57-year-old as part of ITV programme Ann Widdecombe Versus The Benefit Culture.
"Nobody would ever call him a bad father," Widdecombe told The Huffington Post UK on Friday.
"I'm so sorry to hear the news and my thoughts are with the family."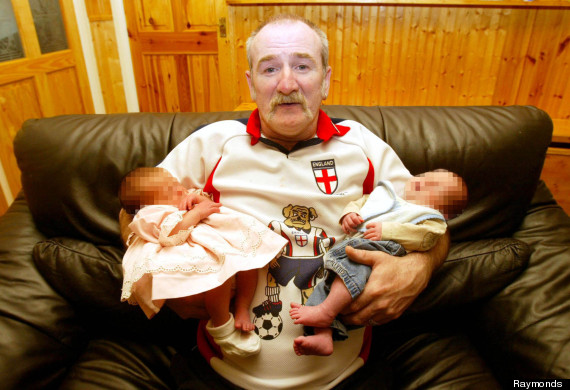 Mick Philpott has been named locally as the father who made "valiant attempts" to rescue his children
Derbyshire Police said eight people, two adults and six children, were taken to the Royal Derby Hospital.
"The ages of the children who died range from five up to 10 years old. The investigation into the cause of the fire is at a very early stage.
This is potentially a murder enquiry at the moment and we are keeping a very open mind until we know what has caused the fire." The blackened house
Derbyshire Fire and Rescue Service chief fire officer Sean Frayne told the press conference of the attempts to save the children.
He said 30 firefighters were sent to the scene.
"Unfortunately this has had a huge effect not only on the community but certainly within the fire and rescue service and other emergency services that were in attendance."
Daniel Walsh, who said he had been a friend of Mr Philpott for many years, visited the scene this morning to lay a bunch flowers.
He said the fire was "shocking", adding: "It's absolutely tragic. Any parent's worst nightmare.
"I didn't know his younger children. He had many children, as everybody knows, and he loved them all the same, no doubt.
"It's just a tragic loss."
A neighbour, who gave her name only as Kaye, said she saw flames coming out of the house and "loads of ambulances", and described it as a "horrible, horrible" scene.
"I just saw the babies going to the ambulance because it was parked outside our house," she said.
"The children are friends with my kids. They played with my children.
"They were OK, good kids."
Mick Philpott appears on Jeremy Kyle below.