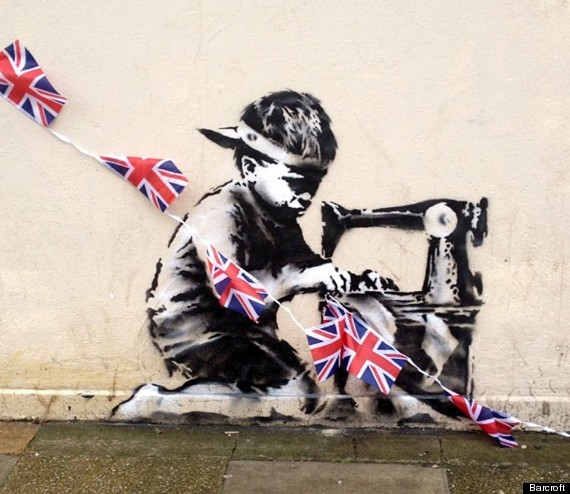 The latest Banksy? We think so...
As the country gears up for a period of Queen-mania, that other great institution of British life Banksy appears to have weighed in with his thoughts on the Royal Jubilee.
A new piece of graffiti art in Banksy's unmistakable style has popped up on a London street, and though, as ever, we'll have to wait until it appears on his official website to know whether it's actually his, the signs are certainly there.
The stencil – spotted on Wood Green High Road – depicts a small boy hunched ower a sewing machine churning out a production line of Union Jack bunting.
The black-and-white-with-a-splash-of-colour style and the wry (but explicit) anti-capitalist sentiment are classic Banksy, and the timing - only a few weeks before the start of the Jubilee - demonstrates his canniness for marketing.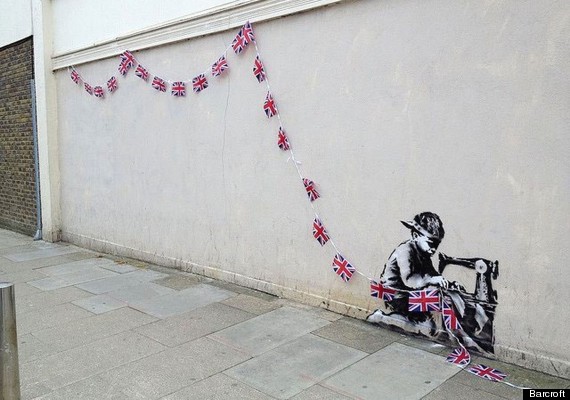 The real clincher though may be the level of attention that appears to have gone into the choice of location.
It's been daubed on the wall of a branch of Poundland, who found themselves in hot water two years ago when it was revealed that a seven-year-old child in India had worked over 100 hours a week to produce some of its stock - and who have no doubt already ordered boxes of bunting by the tanker load ahead of Britain's big party.
This pointed choice in canvas echoes December 2011, when Banksy painted the words 'Sorry! The lifestyle you ordered is out of stock', along with someone falling through the sky clinging to a shopping trolley, on a wall that clear view of the financial district in Canary Wharf.
All things considered, we're going to go out on a limb and call this one as a genuine.
Some more of Banksy's greatest hits: