Petrol was used as the accelerant in the Derby house fire which killed six children, police confirmed on Wednesday.
The fire was started below the letterbox in the front door of the the house, it was announced at a news conference, confirming suspicions that the blaze was arson.
Mick Phillpott, father of the six siblings who lost their lives, broke down in tears today as he thanked fire crews for their efforts to save his children.
Speaking at a press conference just five days after the fatal fire in Allenton, Derby, Mick Philpott said his 13-year-old son Duwayne's organs had been donated to save the life of another child.
Flanked by his wife Mairead, who was also distraught during the five-minute news conference, Mr Philpott also thanked members of the local community for their "overwhelming" support since the tragedy.
Jade Philpott, 10, and brothers John, nine, Jack, seven, Jessie, six, and Jayden, five, all perished in the blaze, while Duwayne Philpott died of his injuries in Birmingham Children's Hospital at the weekend with his parents at his bedside.
The six children, who all died from the effects of smoke, were asleep in their beds upstairs when the blaze broke out at the semi-detached house in the early hours last Friday.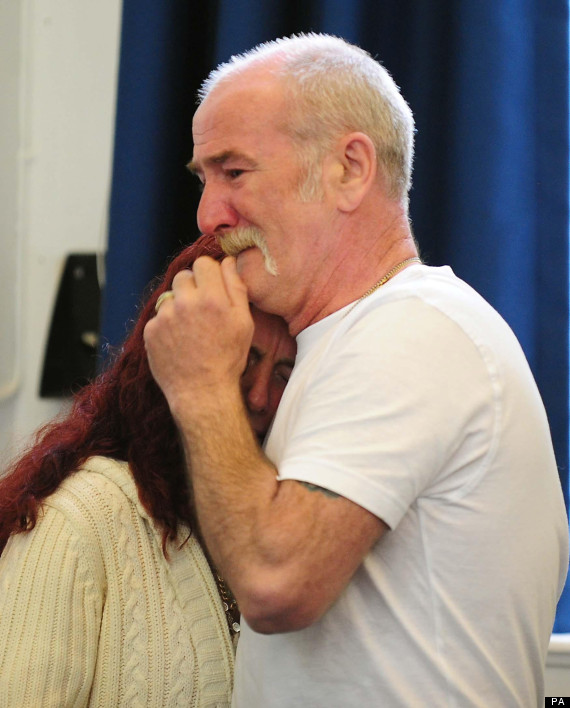 Mick Philpott comforts his wife after the press conference
Philpott, speaking at Derby Conference Centre, frequently dabbed away tears with a tissue as he thanked the emergency services.
Disclosing that Duwayne's organs had been donated to help another child, the devastated father said: "That makes us happy and it takes a bit of the pain away.
"We grew up in a community that's been through a lot of problems with violence and to see this community come together like it has, it's too overwhelming.
"Those poor gentlemen from the fire brigade, who saw what we saw - my heart goes out to them."