The flotation of Facebook - one of the largest Initial Public Offerings (IPOs) in American history - is arguably also the flotation of an entire economy.
For while Facebook is a massive company - it has been valued at $104bn - on its own it employs a relatively small amount of people (3,500) and generates a surprisingly small amount of revenue ($3.7bn in 2011).
On Friday, Facebook made its initial public offering on the stock market, with individual shares selling for $38 (£24).
But that's just the start. Even putting its massive 901m monthly users and 1tn page views per month aside, its ecosystem of apps, advertisers, marketers, analysts, social media 'gurus' (some dubious, some not) and self-promoting users, means that its impact on the global economy is far larger than you might expect.
CLICK HERE FOR MORE FACEBOOK IPO NEWS
In the UK alone, according to Deloitte, Facebook supports more than 35,200 jobs and contributes €2.6bn to the economy.
Across Europe more than 230,000 people's livelihoods depend on the service, with an estimated value of €15.3bn. In America at least 182,000 jobs and $12.19bn depend on the Facebook app ecosystem.
Hundreds of major companies now build their business on Facebook's app platform, including at one which has already launched its own IPO. In December 2012 Zynga, the social gaming company famous for its FarmVille and CityVille Facebook games, as well as its recent purchase of DrawSomething, launched its own IPO. Share performance has been far from stellar, but it still currently makes more revenue per user than Facebook does.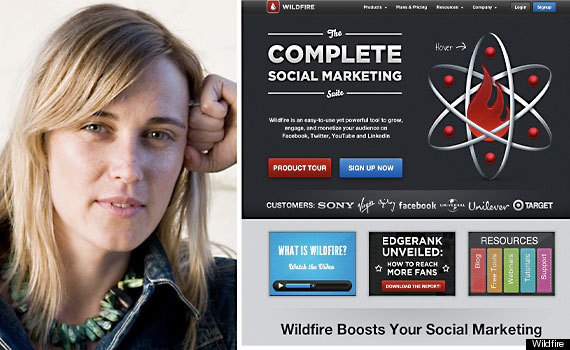 Above: Victoria Ransom, CEO of Wildfire
Another company which lives in the Facebook economy, at least in part, are social media marketers Wildfire.
With around 15,000 paying customers, and 330 employees, it's a large and growing company which in many respects is closer to Facebook than most. One of Facebook CEO Mark Zuckerberg's sisters, Arielle Zuckerberg, works at Wildfire for one thing. More concretely, Wildfire was partially funded by Facebook's own 'fbFund', and makes much of its money advising clients on how to use Facebook to target ads and content effectively - and in their words turn advertising messages into "content" you actually want to read. Or watch. Or click.
CEO Victoria Ransom told the Huffington Post UK that for her, Facebook's IPO is the "icing on the cake" that represents the maturation of social networks into a platform for industry.
"We've gone past the point of thinking social media is a fad," she said. "We've gone past the point of thinking social media is a new interesting channel - to thinking social media marketing is our future."
"The IPO puts the icing on the cake."
"The wealth of ways that Facebook could monetise this incredible user base that it has are incredibly exciting and we're just watching the birth of a giant company that can be hugely successful and have a huge impact on the world."
So how will the IPO change Facebook - for better or worse? For one thing its valuation will make many of its employees millionaires - and provide a huge influx of capital into Silicon Valley - potentially to invest in and build another network of companies with their roots, one way or another, in Facebook.
MORE FACEBOOK IPO NEWS
Ten Amazing Facts About Facebook
$100bn Website Dreamed Up By Mark Zuckerberg In Harvard University DormFacebook Shares To Sell At £24 TodayMark Zuckerberg Set To Make £523 Million In Facebook IPO
Ransom said that Facebook will have to work hard to maintain its self-styled "hacker" image after the IPO, and that doing so will be about more than their CEO wearing a hoody to investor meetings.
"If you visit their campus they're obviously working very, very hard to maintain that great culture that they have," Ransom said.
"The word 'hacker' is written everywhere you look on their campus, if you fly over it in a plane there is a big 'hacker' written into their courtyard… [They are] aware of the fact that once you go public they're going to have to fight that much harder to maintain that.
"They are really working hard to make sure that it doesn't change them in ways for the worse."
As for the company's CEO, Ransom admits he will be "certainly under pressure - largely because the company will have to be under "much more scrutiny in terms of quarterly results that it ever has been before" - but that if anyone can keep Facebook's counter-culture mindset alive then it's Zuckerberg. (And his hoody.)
For those companies that are part of the 'Facebook economy', like Wildfire, the IPO just means they will have to work harder. For as Facebook uses capital to expand, innovate and invent new ways to reach (and learn about) its users, they will have to learn too. Quickly.
"I expect to see Facebook innovate aggressively just as it's always done," she said. "And for companies like us that creates both challenges and opportunities.
"We have to keep pace" Some fear that since the IPO will naturally lead to investor demands for higher revenues that a flood of new - and often unwanted - advertising will follow as a result. Ransom says she doesn't see it happening - partly because if Facebook was all about maximising ad impressions they would have done it way before now, but also because Facebook wants to make money by making ads better, and not more numerous. Increasing revenue for Facebook means advertising "where content becomes the ad - and the more engaging the content the better an ad does," she said.
The idea runs that what advertisers want - engagement - is also what Facebook wants, via smarter, targeted ads. And it all leads to what investors want - a return on that investment.
"They're trying to merge advertising and content such that consumers might find the ads engaging and useful," she said.
"As long as they're looking to the long term and not just short term quarterly revenue optimisation then I don't believe they'll cross that line."
Facebook will launch its IPO on the Nasdaq Stock Market, and is looking to raise about £10bn or more. Trading is set to begin under the ticker symbol "FB" two days after massive interest in the sale prompted the company to boost the number of shares available, with 84m more being added to the IPO than previously expected.
But despite the hype, some are unconvinced Facebook's stock is a sensible investment.
In a recent Bloomberg survey of 1,250 global investors, analysts and traders, some 79% said Facebook's valuation was not justified.
Many argue it has to improve its mobile platform, its revenue strategy and the click-through-rates on its ads in order to justify the cost.
Others argue it is already too dependent on its app partners for revenue - or rather, on too few large developers. In the first quarter of 2012 alone Zynga accounted for 15% of Facebook's entire revenue. Even as CEO Zuckerberg maintains his majority share in the company, it seems obvious investors won't want to see that number remain as high - or even increase - for long.
But despite some sceptics, it seems certain that millions of investors will bet big on Facebook on Friday - and that thousands of businesses will continue to build their own companies on the platform it built. At least for now.
Ivor Kellock, a social media and digital marketing specialist, said: "Facebook is the dominant force in the western world and social networking is still in its infancy.
"That's not to say there won't be more competition and it won't get more difficult for them but I don't think they're overvalued.
"The only caveat is it depends what other new, innovative ideas come up that knock Facebook for six."