An inquest has been opened into the deaths of six children killed in an arson attack.
Jade Philpott, 10, and brothers John, nine, Jack, eight, Jessie, six, and Jayden, five, all died in the blaze at their home in Allenton, Derby, last Friday.
Their brother Duwayne Philpott, 13, died of his injuries in Birmingham Children's Hospital on Sunday with his parents at his bedside.
An inquest into their deaths was opened on Friday at Derby Coroner's Court by coroner Dr Robert Hunter, a court official confirmed, adding that no family members were at the hearing.
During the hearing the inquest heard John, Jack, Jessie, Jayden and Jade were all certified dead at the accident and emergency department of the Royal Derby Hospital.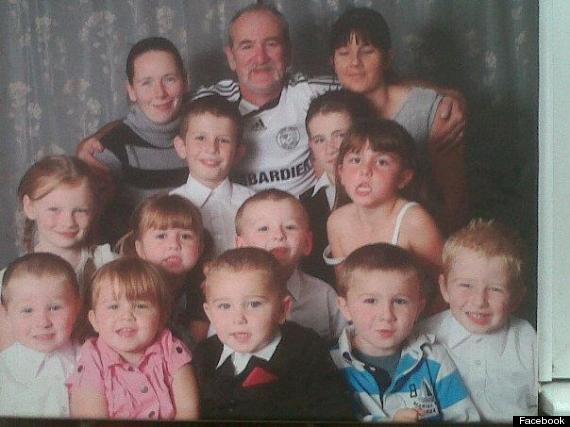 Mike Philpott, back centre, with his children, wife and mistress
The inquest heard the children were formally identified by their father Mick Philpott on Monday, the spokeswoman said.
No causes of death were given and inquiries continue, she said.
The six children were asleep in their beds upstairs when the fire broke out at the semi-detached house in Victory Road in the early hours last Friday. Police have confirmed that petrol was used to start the blaze.
Mr Philpott, 54, who was on the ground floor of the property with his wife, is thought to have been alerted to the blaze by a smoke alarm and made "valiant" efforts to rescue those upstairs.
The grief-stricken father broke down in tears on Wednesday, revealing that Duwayne's organs had been donated to save the life of another child.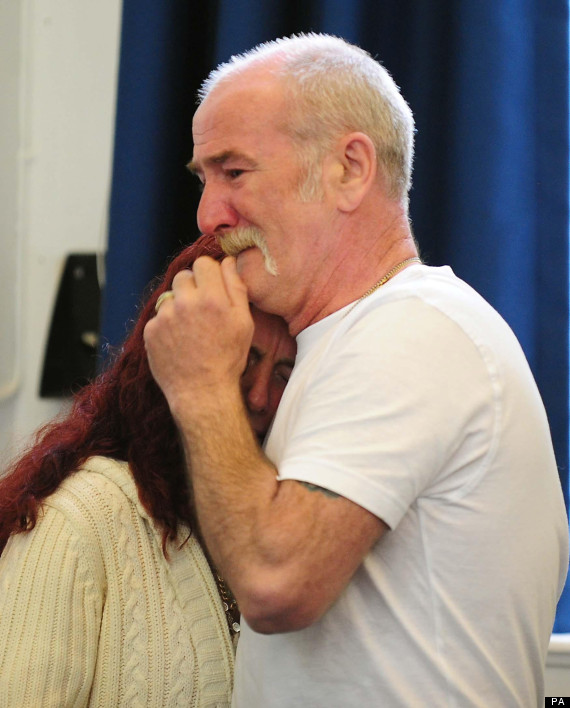 Mick Philpott comforts his wife during a press conference
Comforting his distraught wife Mairead, he also thanked those who tried to save his children's lives and members of the local community for their overwhelming support.
"We grew up in a community that's been through a lot of problems with violence and to see this community come together like it has, it's too overwhelming," he said.
"Those poor gentlemen from the fire brigade, who saw what we saw - my heart goes out to them."
Assistant Chief Constable Steve Cotterill said: "The seat of the fire was inside the front door below the letterbox and there is a clear indication that petrol was used as an accelerant to set the fire.
"The consequences of that were that a fire took hold and smoke then went upstairs to the bedrooms where the children were sleeping. Mr and Mrs Philpott were elsewhere in the house on the ground floor and thankfully they managed to escape."
Mr Philpott, said to have fathered 17 children, is well known in the local community because of media reports about his large family.
He was dubbed "Shameless Mick" in 2007 after reportedly demanding a larger council house.
Anyone with information is urged to contact Derbyshire Police on 101 or the Crimestoppers service on 0800 555 111.
:: A 28-year-old woman and 38-year-old man, both from Derby, were arrested, and were released without charge on Saturday.
SEE ALSO