Even The Voice website commented after this week's show, "That was a good dress rehearsal. When's the live show?" after two technical hitches, a F-bomb on live television and a falling out between the judges all marred this week's programme, much to the delight of viewers. This might be just what the BBC needs for higher ratings, now the BGT juggernaut has departed into the sunset.
After Jessie's microphone failed during her live performance and Becky Hill even dropped the F-bomb over audio problems, two of the judges fell out properly this week for the first time since the series began, with Will commenting that he didn't think members of Danny's team were trying hard enough.
Following David Julien's performance of Maroon 5's She Will Be Loved, an obviously bored Will could hardly summon the energy to say, "It was cool."
Prompted by Holly Willoughby for a bit more, he decided to be frank, "This is a real critical part of the whole show, two of Danny's team are going to leave, and the way you guys are going about picking songs, you're not taking it as seriously as it is.
"The arrangement and how you guys are performing is not to the level that it needs to be at for something this important." Ouch!
Danny, unsurprisingly took offence, "Your team were better? No…."
"No fighting allowed," said big, gentle, purring Tom.
And Jessie tried to intervene too, saying it wasn't about the different teams, but trying to provide constructive criticism for each artist, but Danny and Will were happy to carry on.
"How are you guys going about preparing?" Will asked Danny.
"We collaborate…" replied Danny, ready for a proper fisticuffs until they were cut off. I think we can expect a bit more of this before the series finishes.
MORE: All The Latest News, Photos And Gossip From The Voice
After last week's emotional eliminations of 50% of Sir Tom and Will's offerings, leaving favourites Jaz Ellington and Ruth Brown at the top of the leader board, it was up to Jessie and Danny to prove that their choices can match up.
A technical hitch might have put Jessie J off her game for the team performance of We Are Young, but it didn't come anywhere near last week's delights of Sir Tom and Will.i.am.
Later in the show, Danny got together with his bunch for a lower-energy but far more dramatic performance of Somebody That I Used To Know, which highlighted David Julien and Bo Bruce's talents.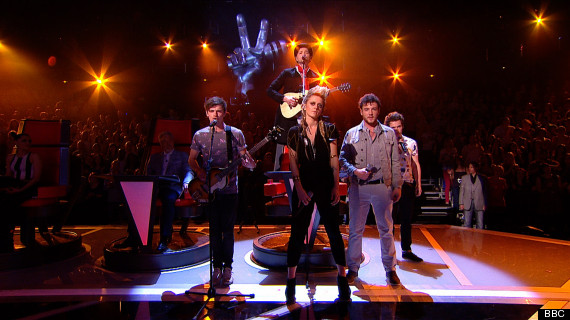 And here's the best of the rest – some choice moments from this week's performances…
Team Jessie
We heard about Cassius Henry's tendency to tense up during rehearsals, but he seemed relaxed enough singing Adele's Turning Tables while lounging over the piano. Which was on a turning platform, geddit? I don't think he'll be going much further in the competition, but at least he got to be the envy of all male viewers for a few Holly-hugging moments.
Vince Kidd dug for his reggae rhythms to Whitney Houston's My Love Is Your Love – no problems with "pitchy", but the strong arrangement threatened to drown his vocals. Sir Tom decided his range was impressive, Danny was worried about the choice of song, and Will commented on it the only way he knows how… with a text commenting on Vince being "a bomb".
Becky Hill had the previous trauma this week of putting her mentor Jessie on her back during rehearsals (you can WATCH this mishap here), and then some technical hitches with the mike meant she even dropped the F-bomb on live telly. But she somehow recovered to sing Seven Nation Army by the White Stripes. What she lacked in hitting every right note, she made up for in attitude and chutzpah, and even Sir Tom was "doing his growl face" according to Jessie.
Toni Warne poured her heart into Sorry Seems To Be The Hardest Word, and it worked (as did the doves), bringing all four judges to their feet.
Team Danny
Max Milner got his guitar back on for his continuing impression of a travelling minstrel, with an unimaginative interpretation of KT Tunstall's Black Horse and a Cherry Tree. Will thought it a bad choice of song, while Jessie conceded it was too similar to the original.
Bo Bruce continued to split the atom between The Cranberries' Dolores and Lonely Goat Herd to ethereal effect, singing Rihanna's Love The Way You Lie.
Aleks Josh, the new Michael Buble according to Will.i.am, has been getting used to lots of female attention, and showed an even more relaxed, smooth style than previously, on Jack Johnson's Better Together, a song he fought to sing. It paid off. It was like the soundtrack to a relaxed summer picnic, although Will announced he was ready for more. And we had our first argument of the night, with Jessie backing him up – "when's it going to get more exciting?"
David Julien was sounding more like Tracey Chapman than ever, on Maroon 5's She Will Be Loved, but his impression of the American chanteuse meant he didn't sound like he was trying to impersonate Adam Levine – but it obviously wasn't enough for Will.
This week's contestants in action... any of these on cue to be The Voice?