Some Olympic Torch bearers are cashing in on their once-in-a-lifetime privilege – by auctioning their golden torches on Ebay.
One has received a bid of over £150,000, although since Olympic chiefs say the torches are worth £495, this could well be a hoax.
Its seller "erikaboe" says on the site: "You are bidding on an authentic London 2012 Olympic Torch used in the torch relay.
"The torch is made up of an inner and an outer aluminium alloy skin, held in place by a cast top piece and base, perforated by 8,000 circles and stands 800mm high."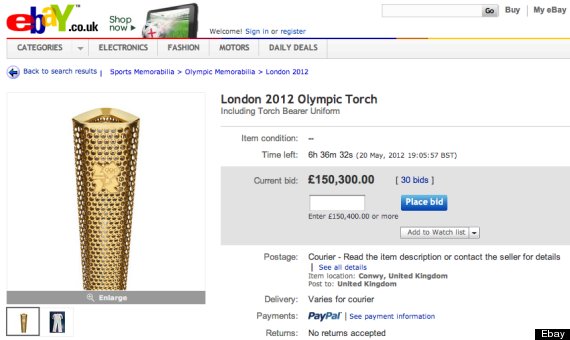 Hot property: This Olympic Torch has received bids of over £150,000, though this could be a hoax
Andrew Bell, from Probus, Cornwall, meanwhile, was one of the first of several bearers to try and flog his torch.
He explained that not only did he need the money, but that the Torch just didn't look right in his home.
The 32-year-old has since withdrawn the sale, but initially told The Sun: "I understand some people may find the idea of selling an Olympic torch offensive but we could genuinely use the money.
"Without giving you a sob story, we've a lovely baby boy and my wife has just gone back to work after maternity leave. Also, the torch is nearly a metre long and looks weird on the mantelpiece."
Olympic Torch Honour For Royal Marine Amputee
Others are still available to buy, though, drawing criticism that it's just not in the spirit of the Olympics.
Lord Moynihan, Chairman of the British Olympic Association, told Sky News: "It was fantastic hearing that the games were coming to London, now the torch is here… you saw Ben Ainslie having just come off the water proving that he's the best in the world.
"It's about sharing in that spirit, not about commercialisation."
Olympic organisers don't see anything wrong with auctioning the torches, however.
A spokesman said that it was up to the bearers, who buy them for £295, to decide what happened to them.
In all 8,000 bearers will take the flame on an 8,000 mile journey around the UK, accompanied by a convoy of 14 core vehicles carrying sponsors, members of the media and security staff.