More evidence will come out that will force the Scottish government to re-examine the late Lockerbie bomber Abdelbaset al-Megrahi's conviction, his biographer has said.
John Ashton, author of Megrahi: You Are my Jury told The Huffington Post UK on Monday: "I'm sure more evidence will come out eventually but it's the known unknowns."
He paid tribute to Megrahi following his death, saying "he died with a guilty verdict still hanging over him."
"I think he's innocent. I think it's a terrible injustice that he was ever convicted," he said.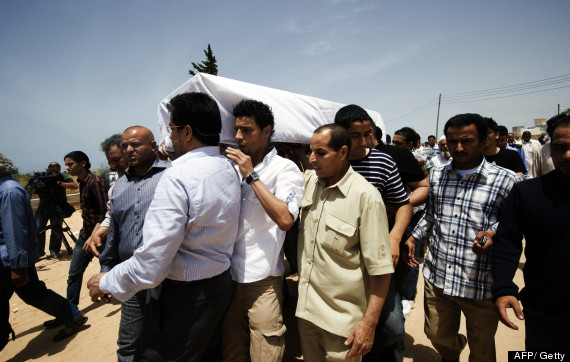 Megrahi's death was announced on Sunday
"I will remember him as somebody who bore his burden - how fraught it must be wrongly convicted and terminally ill in a foreign country - remarkably well.
"Those who knew him will remember him as an innocent man who handled the terrible things that happened to him with a great deal of dignity and good grace."
Megrahi was buried in Libya on Monday. The 59-year-old was released from jail in 2009 on compassionate grounds after being diagnosed with terminal prostate cancer and sent home to Tripoli with an estimated three months to live.
In his book Ashton claims there is new forensic evidence which shows the timing device used in the Lockerbie bomb was not from Libya, alleging evidence withheld by the Scottish crown office.
The researcher, writer and TV producer worked alongside Megrahi's legal team, with whom he saw the evidence, from 2006-2009.
Ashton quotes Megrahi, who worked closely with him on the book, protesting his innocence: "You know me as the Lockerbie bomber. I know that I'm innocent. Here, for the first time, is my true story: How I came to be blamed for Britain's worst mass murder, my nightmare decade in prison and the truth about my controversial release."
Now he is pushing for Scotland to re-open the case, saying until that happens those who believe in Megrahi's innocence will "just do as much as we can to embarrass them."
"They only really care about public opinion and public opinion is stacking up against them. Sooner or later they'll have to give way and grant an inquiry."
Following Megrahi's death prime minister David Cameron has dismissed calls for a fresh inquiry into the Lockerbie case, despite calls from the Justice for Megrahi group which is supported by Jim Swire, whose daughter Flora was killed in the bombing, as well as Nobel Peace Prize Winner Desmond Tutu.
SEE ALSO: