A worker claims she was dismissed because her breasts are too large and she dressed too provocatively for her Orthodox Jewish employers.
Lauren Odes was employed on a temporary contract at New York lingerie warehouse Native Intimates, but was claims she was fired after less than a week for being too attractive.
Scroll down for more pictures and video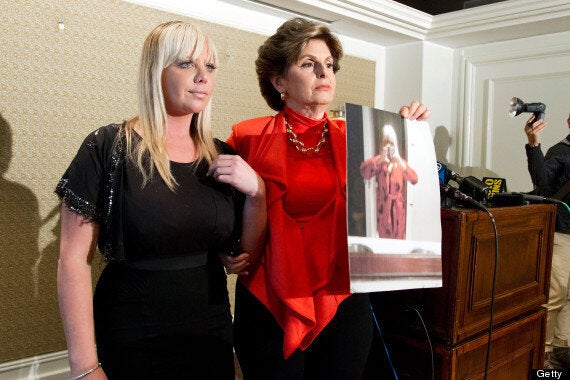 Ms Allred and her client at a press conference where they showed a picture of a loose red robe Odes claims she was asked to wear over one of her outfits
"Ms Odes alleged that the supervisor suggested that Lauren try taping her breasts down to make them appear smaller."
The blonde 29-year-old claims she was fired from her temporary position by telephone after leaving the office to change her tight black dress at the request of her employers.
Odes, who has filed a gender and religious discrimination complaint to the Equal Employment Opportunity Commission, told a press conference: "We should not be judged by the size of our breasts or the shape of our body"
Her duties included data entry and coordinating the shipping of samples to customers.
Odes added: "I understand there are Orthodox Jewish men who may have their views about how a woman should dress…but I do not feel that any employer has the right to impose their religious beliefs on me."
Native Intimates have made no comment.