Theresa May's plans to replace anti-social behaviour orders (Asbos) will just repeat the old failings, creating a back door to custody for people who have not committed a criminal offence, more than 60 organisations in the Criminal Justice Alliance have said.
The new 'community trigger' to force police to investigate any incident of anti-social behaviour reported by at least five people will do little to tackle the problem in the long term, campaigners said on Tuesday.
Measures, which will be published in a white paper on Tuesday, aim to put an end to the horror stories of victims being ignored despite making repeated complaints to the authorities about problem neighbours.
It follows high-profile cases such as that of Fiona Pilkington, who killed herself and her disabled daughter Francecca Hardwick, 18, in 2007 following 10 years of sustained abuse.
As the Home Secretary ends Labour's Asbos which have been described as a badge of honour among anti-social youths by critics, Mrs May will bring in streamlined measures designed to ensure police take incidents of low-level nuisance seriously.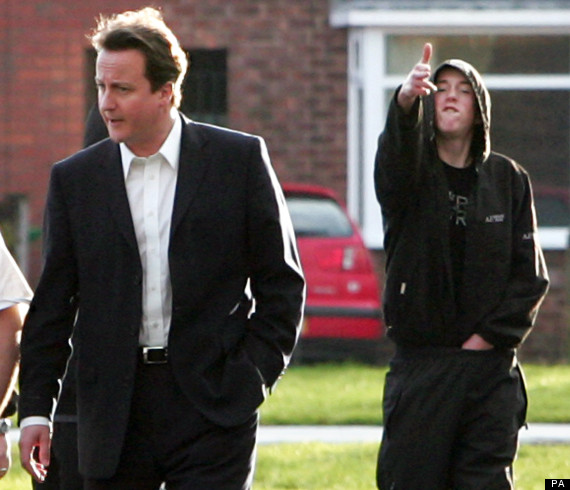 David Cameron (left) walks through the Benchill area of Wythenshawe during his visit to Manchester whilst Ryan Florence, 17, makes a gun gesture
Police will have to take action to tackle nuisance behaviour if five people in different homes across the same neighbourhood complain, or if one person complains on three separate occasions, under a new "community trigger" power.
It is expected to be introduced in three pilot schemes in Manchester, Brighton and Hove and West Lindsey, Lincolnshire.
Asbos and 18 other measures are also expected to be replaced with a streamlined system of six measures that target people, places and police powers.
May is expected to announce a new Criminal Behaviour Order (CBO) to ban an individual from particular activities or places.
And civil Crime Prevention Injunctions (CPI) are also expected to be brought in to give agencies an immediate power to protect victims and communities by stopping bad behaviour before it escalates.
The lower standard of proof for civil orders such as the CPI means they can be put in place in days or even hours. Francecca Hardwick, 18, (left) and Fiona Ann Pilkington, 38, were both found dead in a burning car
Simpler powers to close premises that are a magnet for trouble and tougher action over nightmare neighbours, with faster eviction processes for those who refuse to change their ways, are also expected.
The white paper will be published as Mrs May addresses police chiefs from across England and Wales at their annual conference in Manchester.
SEE ALSO
But Vicki Helyar-Cardwell, director of the Criminal Justice Alliance, warned that enforcement powers alone will not be enough to prevent anti-social behaviour.
"There is a risk that if these new measures are not accompanied by necessary support in communities - youth clubs, family support and health services - they will do little in the long term to tackle this important issue," she said.
"There is a real risk that these new orders will result in more and more people being sent to prison for breaching their order when the original offence would not have warranted custody. Theresa May's plans are already being attacked by critics
"Our prisons are already severely overcrowded, and we know that warehousing people who often have social or health needs can make them more not less likely to reoffend.
"Loss of employment and accommodation and separation from family can exacerbate the underlying causes of anti-social behaviour."
A report by HM Inspectorate of Constabulary (HMIC) in January found that incidents of anti-social behaviour only led to a low number of crimes being recorded and the identification of repeat, vulnerable and intimidated victims was poor at the first point of contact.
A Home Office spokesman said:
"What clearly hasn't worked is the existing system, with thousands of people's lives still blighted by anti-social behaviour and many not reporting it because they have little faith it will be taken seriously.

"We are overhauling the whole system to put the focus on the impact of victims and neighbourhoods and ensure people can hold the police and local agencies to account.

"We are replacing cumbersome and bureaucratic legislation with faster, more relevant, effective and lasting powers.

"We are also addressing the underlying drivers of crime and anti-social behaviour such as binge drinking, drug abuse and troubled families."
The Criminal Justice Alliance also backed measures to simplify the system.
May told ITV's Daybreak the proposals were "putting the needs of victims first" by simplifying the process that allowed action to be taken against anti-social behaviour and putting power back in the hands of local communities.
"One of the problems with Asbos that I have been told about by people is that they just take too long, they are too bureaucratic and it takes such a long time sometimes to actually get anything done," she said.
"So one of the things we will see with the new orders we are introducing is that it will be possible with some of them to get them in place within days, certainly possibly even within hours."
Defending the community trigger idea, she said: "I hear too many cases where people say, you know, 'We have been suffering from this anti-social behaviour, perhaps in our street, perhaps in our estate. It happens time and time again and nothing seems to happen.' It just takes too long with the current Asbos. So I think it is right communities should be able to say to the police 'Actually, something needs to be done about this'."
Click through the slideshow below to see some of the best jokes and sharpest observations from twitter...