The Queen Victoria Memorial which sits in front of Buckingham Palace, is undergoing a transformation ahead of the Jubilee Concert held in honour of the Queen's Diamond Jubilee on 4 June.
Enormous stands are being set up around the monument, which sits at the end of the Mall, with a stage being erected around the memorial itself.
The Jubilee Concert falls on the third of four days of celebration, commemorating 60 years of Queen Elizabeth II's reign and will feature acts from across the Queen's reign including Sir Elton John, Sir Paul McCartney, Stevie Wonder and Dame Shirley Bassey, as well as current acts such as Ed Sheeran, Jessie J and JLS.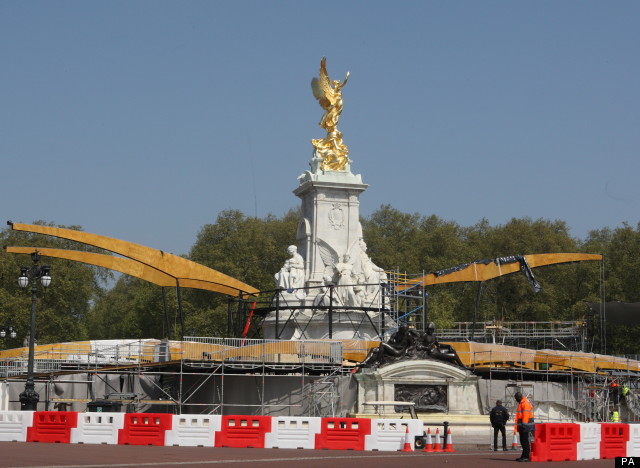 More than 1.2m people applied for tickets to the concert, with only 10,000 tickets up for grabs.
Those who won tickets through the random ballot will also have the chance to attend a special Jubilee picnic, which will take place in the palaces of Buckingham Palace on the same day.
The concert, which was organised by Take That frontman Gary Barlow, will also be shown live on television.
Click through the slideshow below to see more photos of the concert preparations...